If you don't notice yet, the system and boot drives in Windows operating system such as Windows Vista, Windows 7, Windows 8, Windows 8.1 and Windows 10 has a different icon from the other normal non-system or non-boot disk drives. The boot system drive icon has a small Microsoft Windows logo on the image of the drive, which make the logo looks like a small Windows flag, as shown in the illustrations below.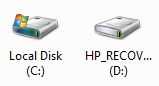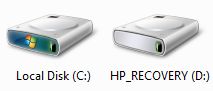 Depending on version of Windows, the icon design may be unique for system drives in different views in Windows Explorer.
Sometimes, the Windows symbol or logo on the system drive may gone missing or disappearing, causing the system drives to appear using the same disk icon with other standard or normal drives.
To recover and restore the special unique system drive or boot drive icon with Windows logo, open Services component (type Services.msc in Start Search or go to Control Panel -> System and Maintenance -> Administrator Tools). Locate Shell Hardware Detection, and then double click on it to open Properties dialog. Ensure that the Startup type is set as Automatic, and then restart the computer.
The system drives and boot drives should now has its beautiful unique icon for easy identification.