I
f you miss the last chance to register for
free Demonoid account
about a week ago, now is your chance to get the account for free, without any charge and payment. And no invite or invitation from existing user needed for Demonoid.com account either. The only requirement is FAST.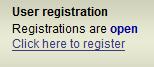 Head to Demonoid registration pag (now Demonoid.pw) now.
Last month in May, Demonoid opened 2 public registration days. Today opening of registration marks the second opening in June, and may be the last for this month if trend follows.
Check out Tracker Checker with automatically inform you when Demonoid or other private trackers registration is opened, and also more Demonoid free registration period.
Update: Free registration opens again on 4th August 2007.