R
icoh GR Digital Features and Specifications:
Ricoh GR Digital Official Homepage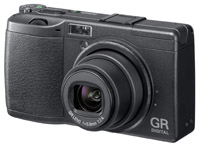 Ricoh GR Digital Reviews and Comparisons
Adorama: This camera might not be the digital Leica so many are waiting for, but it's probably closer in spirit (and definitely closer in price) to the Konica Hexar and closer in size to an Olympus Stylus. Both cameras were excellent 35mm "street" cameras. The GR Digital is a very specialized camera that does a few things very, very well.
But it's not for everyone. If you're a snapshooter and need a camera for some vacation and family holiday shots, you don't need this camera; in fact, you'd probably be disappointed by its lack of a zoom lens. But if your other camera is a Leica M-series rangefinder, (or you wish you had a Leica M) and you don't mind spending over a grand for the whole package–and doing a bit of post-production to mitigate the grain–the Ricoh GR Digital is worth your serious consideration.
TrustedReviews rates the digital camera 9 out of 10 and concludes that Ricoh has produced something unique, a compact camera that will satisfy even the most demanding enthusiast. Its combination of compact portability, robust build quality, superb handling, creative control and fantastic picture quality should make it a firm favorite among keen photographers, especially the travel photographers who loved the original GR film camera. An expensive camera, especially for the whole kit, but well worth the money.
Pocket-lint says that while the Ricoh GR Digital is not without flaws and notwithstanding its £400 price tag, which may make some swallow hard before parting with any cash for it, it is also a very accomplished little camera. The new GR would be ideal as a professional's back up, or perhaps the main weapon of choice for photo enthusiasts. In either case they'd be safe in the knowledge the camera boasts a superb spec, lacking practically nothing; a built-in optical viewfinder would be a benefit though. Moreover, the image quality and versatility will not let them down. In short, it is worth every penny.