S
amsung NP_X60 notebook computer has a 15.4″ widescreen LCD and weighs in at about 2.5kg (5.5lb) with a 6 cell battery installed. The NP-X60 also features Intel Dual Core CPU, Wireless, Bluetooth, PCI-Express, Gigabit Ethernet and Serial-ATA.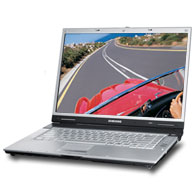 NotebookReview reviewed that "The X60 should be on the shortlist of anyone looking for a lightweight 15.4″ widescreen computer (subject to the regional availability constraints). Build quality does not appear to be compromised by the low weight. The model reviewed contains the slowest of the Core Duo CPUs and an intermediate level graphics processor. Overall performance is well ahead of the previous generation of notebooks. Although the supplied HDD is nominally 100GB, there was only 86GB remaining after formatting and installation of the AVStation Now software.
So far, I have no regrets about my purchase which seems to satisfy my original objectives. I would have liked a faster CPU, but it is evident that the slowest of the dual core CPUs provides a substantial performance improvement. I would have liked a slightly higher resolution display (1440 x 900). The greatest disappointment has been the unnecessarily heavy PSU."
Pros
A lightweight (just over 2.5kg / 5.5lb) 15.4″ notebook
A fast machine (compared to the previous generation of notebooks)
Solid and rigid construction
Good audio volume and quality
A quiet fan with a good cooling system
The hard disk stays cool
Cons
The power supply is excessively heavy for a lightweight notebook
The touchpad could be bigger
The standard 6 cell battery running time is little over 3 hours at light load
The supplied memory is DDR2-533
The fan runs continuously
I would like an option for the WXGA+ (1440 x 900) resolution display
Check out more reviews on Samsung NP-X60.