S
anyo VPC-HD1 is a compact and slim high definition (HD) digital camera cum digital camcorder. Sanyo calls the Xacti HD1 as digital media camera or digital movie camera, and it has the ability to capture high-definition MPEG-4 movies at 1280 x 720 pixels and 30 fps. Sanyo Xacti VPC-HD1 features 720p HD video scanning (1280 x 760 progressive), 16:9 widescreen format (HD-SHQ / HD-HQ modes), 5.1 megapixel digital still photos, advanced MPEG-4 compression technology, ability to capture still and video images simultaneously, super-fast 9Mbs frame rate, 2.2 inch OLED (Organic Light-Emitting Diode) display, 10x optical zoom lens plus 10x digital zoom lens, ability to record over 41 minutes of High-Definition video on a 2 GB SD Card, built-in digital image stabilization, super fast start-up, wind noise reduction, built-in 4-mode flash, AAC-LC stereo recording, 22 adjustable manual focus settings, super macro shooting as low as 1cm, talking navigation guide for first-time users, PictBridge compatible and has USB 2.0 and S-Video output.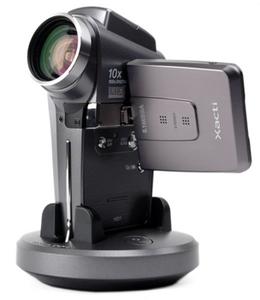 TrustedReviews reviews Sanyo Xacti VPC-HD1 digital camcorder and concludes with overall rating of 6 out of 10 that the Sanyo VPC-HD1 is very expensive, and has lower photographic quality than a dedicated 5-megapixel still camera, however it is a unique product that offers features that can't be found elsewhere. Build quality, handling and performance are good, and it is the closest thing yet to a successful hybrid still/video camera.
ComputerAct!ve (dead link) concludes with rating of 4 out of 5 that Sanyo's Xacti VPC-HD1 is so very nearly the perfect camera, but many will be put off by its inconsistent image quality. Good points are high-definition camcorder and 5.1-megapixel camera in one, uses SD memory cards instead of tapes and comes with lots of accessories, while bad points are no memory card included and picture quality is not always good, especially in low light.
For more features, specifications, sample movies and sample images, visit Sanyo VPC-HD1 official homepage (no longer available).