Vista Shutdown Timer or Vista-ShutdownTimer is a free, advanced yet easy to use sleep timer or scheduler for Windows operating system, supporting almost all versions of Windows including Windows 7, Windows Vista, Windows XP, Windows Server 2003, Windows Server 2008, Windows 2000 and etc., albeit the name of "Vista" Shutdown Timer. Vista Shutdown Timer allows user to preset schedule a time to shutdown and turn off computer automatically, and support various features to make it a must have shutdown scheduler.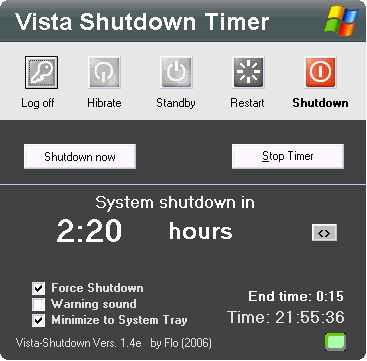 Features of Vista Shutdown Timer include:
Specify remaining time left (countdown timer) to shutdown or set a time to shut off PC.
Warning sound in the last 20 seconds before starting to shutdown system.
Has On Screen Display (OSD).
Support minimize to system tray (notification area) with system tray menu.
Support remote control via CIR (Consumer IR) that support macros or custom assignment of button function.
Able to manually kill hanging or freezing programs to force shutdown.
Create shortcuts with selected parameters and icons with Shortcut Wizard.
Support startup screen in classic mode.
Support command line parameters for more flexibility.
Able to auto shutdown mode which functions like a TV sleep timer mode.
No registry and .INI files added.

Download Vista-ShutdownTimer.exe. Visit author homepage to get more information and sample usage instructions. Vista ShutDown Timer requires Visual Basic 6 Runtime to run.