W
ant a Mazda CX-7, the SUV You Never Saw Coming, for free? Now you have the chance. Mazda and Google has launched Mazda CX-7 EarthSearch Sweepstakes Game with various prizes up to grab, including the grand prize that will giveaway a Mazda CX-7.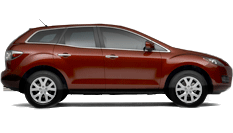 To participate Mazda CX-7 EarthSearch Sweepstakes Game, you will need to install Google Earth which combines satellite imagery, maps and the power of Google Search to deliver the world's geographic information directly to your PC. Then users visit Mazda CX-7 promotional website (neversawitcoming.com) (link expired) and watch a short video for clue. Then users have to try to figure out where the exhilarating SUV is located on the earth by searching in Google Earth (zoom in to an elevation of 5000 ft. or less) for the specific location which will be marked by a sweepstakes entry icon. Once the icon is found and clicked, the users are entered in sweepstakes to win and can view more clues as they are released.
Too hard to determine the hidden location? Just click on the "hint" next to the image for more information regarding the hidden location. If you don't want to search for the SUV, you can use alternate method of entry (promo expired) to register for 1 sweepstake entry. By doing just this, you lose the chance to increase your sweepstakes entries to a maximum of 23 by searching for the Mazda CX-7.
Beside Mazda CX-7 SUV, other prizes for the EarthSearch Sweepstakes Game include Apple Powerbook, a Magellan Roadmate 800 Navigation System or a 30 GB Video iPod. To increase your chance of winning, you can refer your friends too.
The entry is only for residents of United States, and must be at least 18 years old and have a valid driving license. The contest run from April 28, 2006 to June 27, 2006.
Win a Mazda CX-7 SUV by searching for SUV Google Earth (expired).