E
ver wonder you can search for the information you want on the Internet, and at the same time win some fantastic and fabulous prizes?
MSN has launched an incentive promotion to invite Internet users to search using MSN Search and Win to stand a chance to instantly win some fabulous prizes, including various gift vouchers, gift cards and certificates, PCs, Panasonic TH-452PX500U 42″ Diagonal plasma HDTV, Canon PowerShot A610 digital camera (A610), Creative Zen Sleek 20GB, Novara Float Bike 2006, Sony LF-X1 LocationFree 12.1″ LCD TVs, magazines subscription, cash donation to charity and other attractive prizes. Over $1 million in prizes will be available during the months of February, March and April
To participate and stand a chance to win, just search using MSN by using potential winning keywords, and when you see Search and Win link in the search results, click on the Search and Win link. Then you will know if you have won any prize instantly. You won't see the Search and Win link in all your search queries though, only about 1,200 keywords initially linked to prizes this month, with more keywords added in March and April. Those keywords closely related to prizes are the easiest guess.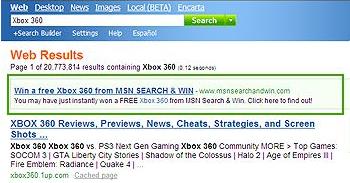 However, the promotion is open to US residents only though, and you must be at least 18 years old to win.
Search and Win offer has expired.