S
ennheiser HD435 and HD555 are high-end home entertainment headphones. HD 435 open stereo headphones feature medium-sized dynamic, supra-aural headphones, powerful stereo sound, volume control, detachable, single-sided cable, 3.5 mm jack plug and ¼" (6.3 mm) screw-on jack adapter and comes with protective pouch. Sennheiser HD555 open back audiophile headphones feature ergonomic acoustic refinement (E.A.R.), Duofol diaphragm technology that eliminates standing waves inside the capsule, highly optimized, field-strengthened neodymium ferrous magnet systems, lightweight aluminum voice coils, and well-balanced bass reproduction below the human audibility threshold (15Hz).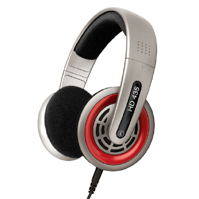 GotFrag Hardware (dead link) reviews Sennheiser HD435 and concludes with rating of 7 out of 10 that "given the audiophile market that is the HD435's birthright, we were happy to find an in-line volume control. It is common to find these not included in high-end headsets, and it is a fairly important thing for gamers to have. Therefore we were happy to see it on here. Accessory-wise, the headset comes with a ¼" adapter in case you want to plug the headphone into something bigger than its default 1/8" plug, although it isn't a very common plug to have on a PC. Finally, the thing that most caught our eye was the carrying bag. We're not talking some cheap plastic baggie; this is the type of stuff Crown Royal comes in. It's a very soft, jet-black bag with rip cords to keep the precious cargo shut in. It is a very nice extra to just be thrown in by Sennheiser. Whoever thought of that in the marketing department needs a medal."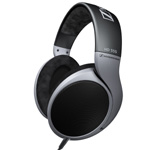 GotFrag Hardware (dead link) also reviews Sennheiser HD555 and concludes with rating of 9 out of 10 that the HD555 is a no-frills, no-nonsense device that sells itself on its abilities. The only included device that's really worth mentioning is the 1/4′" to 1/8" adapter, which would be a must-have for anyone doing PC gaming. Beyond that, the HD555 is simply what it is.