The Microsoft Sticky Notes in Windows 10 is a very useful utility to quickly jot down important information, or to put critical reminders on a prominent place, or simply as a task management app to manage the tasks you need to do from the convenience of desktop.
Sticky Notes app allows user to create and keep multiple notes in addition to other features such as ability to sync all notes with cloud. With the arrival of Sticky Notes version 3.7.106, user now also have the ability to quickly show or hide all the sticky notes.
The Show all notes and Hide all notes options have been added to the Jump List of the official Sticky Notes app, after the feature was introduced to Sticky Notes Insiders for beta testing. The options allow users to quickly hide all notes or open all notes on screen.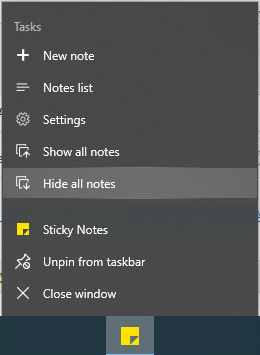 To access the Jump List of Sticky Notes, pin Sticky Notes to Taskbar, right click the Sticky Notes icon on the Taskbar. Then select Hide all notes or Show all notes as you wish to clear your desktop of all notes or bring back all notes to desktop.
Sticky Notes app is installed by default in Windows 10. Else you can download and install the app from Microsoft Store.