G
oogle's Gmail is going to set a new milestone by revealing how Gmail email messages are delivering and traveling across the world. The behind the scene mail processing, routing and delivery of Gmail is going to be shown in a video clip hosted in YouTube. As hundreds of thousands of people involving in Gmail usage, the video will be kind of collaboration from all involved parties. So if you play a part in helping Gmail goes and travels around the world, shoot and capture it in video and be featured in the final collaborative "Gmail: Behind the Scene Video".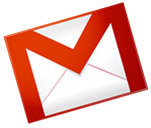 All of the above introductory text is bullshit and joke anyway, although it's not yet April Fool. The "Gmail: Behind the Scene Video" is just another trick from Google Gmail team to be humor and make fun. The purpose is simply to "help us imagine how an email message travels around the world." Gmail team has even started the initial part of the collaborative video.
What you need to do to act and feature in this video is simply shooting and authoring a video clip of passing Gmail envelope yourself with creativity. You don't even have to create the M-velope (envelope with the shape of Gmail logo) yourself, as it has been prepared and available for download (no longer available) to print out.
Once you satisfy with your video creation, simply upload and post the video to Youtube (expired) as video response to Gmail: Behind the Scene Video. The best videos will be selected to add to the final video clip to be released to the worldwide audience.
The final cut of the junk video: