S
ling Media Slingbox is a personal video broadcaster that enables users to watch your TV channels programming or video sources from virtually anywhere in the world with any Internet-connected PC, which will become your personal TV. Slingbox will record the television and video signal and transmit it through Internet for user's viewing pleasure.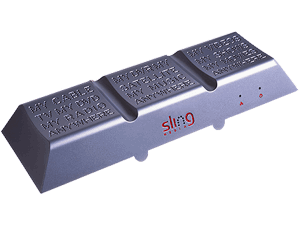 XYZ Computing reviewed Sling Media Slingbox and concluded that while what that Slingbox does is not very complex, it does it effortlessly and offers an elegant solution where no other one exists. It may seem like a toy to most people, but those who travel a lot, have a second home, get bored in the workplace, or commute with a Windows Mobile device will finally be able to get their money's worth from their television.
Overall, it is hard to complain about a device as innovative and as well designed as the Slingbox. The fact that it cannot work with HD content is understandable given the limitation of the data rates involved and limiting usage to one person will prevent any sort of litigation from content providers (though place shifting has been deemed an appropriate usage of content which you have paid for). Like most tuner devices the Slingbox only handles up to channel 125 and cannot play DRM protected channels, like HBO, put these are common limitations on a device like this.
Pros
– Watch your TV anywhere
– Allows TV on your smartphone
– Easy set up
Cons
– Limited to one person
– Must pay more for Slingplayer Mobile
Full Review (link dead)