A new build for Windows 10 October 2018 Update Version 1809, previously codenamed RS5, has been released by Microsoft for Windows Insiders in the Fast ring. With general availability date of Windows 10 draws closer, each newer build is now potentially be a RTM (Released to Manufacturing) build. Microsoft is expected to sign off the RTM build of Windows 10 October 2018 Update in September 2018, where Windows Insiders will have the final edition pushed to them first.
The new Windows 10 Build 17755 does not contain too many changes except more bug fixes and performance improvements, with the one exception. The much anticipated app, Your Phone, which allows users to sync the Android and iOS smartphone to Windows 10, has a major upgrade in functionality, even though theoretically Your Phone app is a standalone app and not part of the OS. Your Phone app which synced with an Android phone can now send and receive SMS text messages beginning from Windows 10 Build 17755.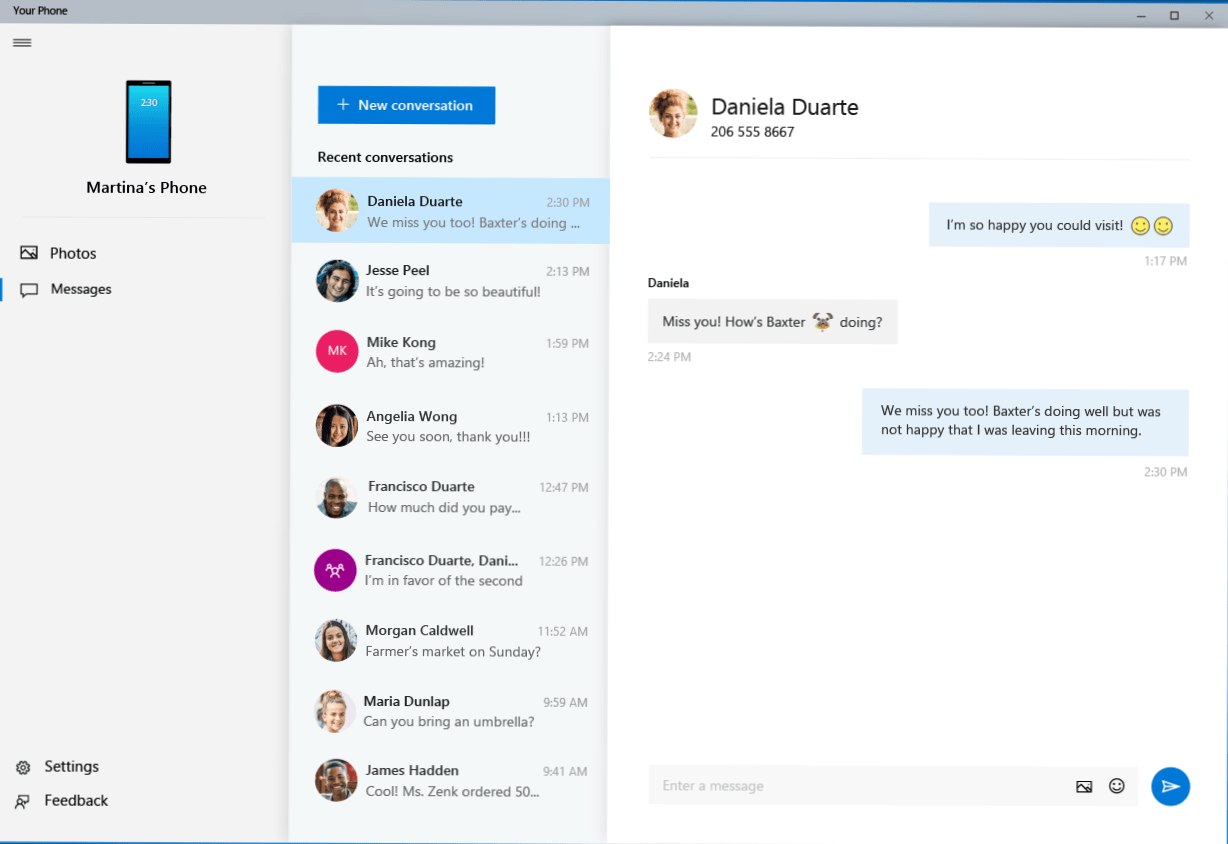 With the inclusion of SMS support, Your Phone app supports usage of digital pen to focus near the text field in Your Phone app's messages to start inking a message and automatically converting to text and send on pen-capable devices. It's also possible to press Windows logo key + H keyboard shortcut or press the microphone button on touch keyboard to start dictation and use your voice to dictate a message (US English only at this time).
Currently, most feature of Your Phone app is available for Android only, with iOS coming soon.
The changes, improvements, and fixes for PC as noted by Microsoft for Windows 10 Build 17755:
Fixed an issue resulting in slower resume from hibernation on certain devices in the last few flights.
Fixed an issue resulting in HDR video being unexpectedly clipped in certain situations.
Fixed an issue resulting in Windows Hello spending more time in the "Getting Ready" state in recent builds.
Known issues in Windows 10 Build 17755:
When you use the Ease of Access Make Text bigger setting, you might see text clipping issues, or find that text is not increasing in size everywhere.
Narrator sometimes does not read in the Settings app when you navigate using Tab and arrow keys. Try switching to Narrator Scan mode temporarily. And when you turn Scan mode off again, Narrator will now read when you navigate using Tab and arrows key. Alternatively, you can restart Narrator to work around this issue.
To download and install Windows 10 Build 17755, join Windows Insider program and set to receive update in the Fast ring. Then, check for updates in Settings -> Update & Security -> Windows Update.
Update: Windows 10 Build 17758