S
ony Cyber-shot DSC-H1 Features and Specifications:
Sony Cyber-shot DSC-H1 Official Homepage
(no longer available)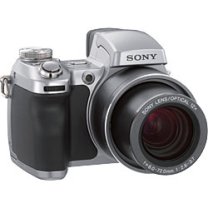 Sony Cyber-shot DSC-H1 Reviews and Comparisons
Digital Photography Review: Considering this is Sony's first foray into the increasingly crowded – and competitive – 5MP 'super zoom', whereas other manufacturers are already into their second or third generation models, the DSC-H1 is a very impressive, very mature product indeed. Handling is excellent, it's very fast and responsive and the results – even shooting in full auto mode with default settings – excellent. There are few cameras I can wholeheartedly recommend to both novice 'snappers' and experienced photographers, but the H1 is that rarest of beasts; a 'compact' camera with handling and control close to a DSLR, yet one that – even in inexperienced hands – can be left in 'idiot-proof' mode and trusted to produce the goods time and time again. And, like the S2 IS, it's capable of high resolution movies. Above all, the H1 is fun and easy to use, which means you will find yourself taking a lot more pictures, which has to be a good thing.
Ultimately the choice when looking at this class of camera is a difficult one, and one that more often than not comes down to handling, personal preference (in terms of the actual output) and how important movie capture is to you. Having shot almost exclusively over the last few months with the three cameras compared here, plus the Konica Minolta Z5 and the Panasonic FZ20, there is no clear, overall winner, but – for photographers who like to take control, the H1 has to be the first port of call – and that big screen is a real bonus. If Sony sorted out the focus at the long end of the zoom (which, though fast, always overshoots before it finds its mark) and looked more closely at lens sharpness than software sharpening they'd have the perfect super zoom.