S
ony Cybershot DSC-H2 Features and Specifications:
Sony Cyber-shot DSC-H2 Official Homepage
(no longer available)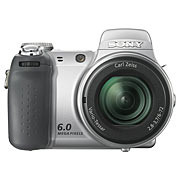 Sony Cybershot DSC-H2 Reviews and Comparisons
HardwareZone (First Look): The Cybershot DSC-H2 is highly recommended for travelers who are more particular about image quality and functionality over outright portability. Though lightweight, the H2 is by no means a pushover where camera functions and image performance are concerned. Test pictures attested the H2 as a competent prosumer camera capable of taking sharp pictures with accurate color reproduction.
Given that full adjustment of aperture and shutter speeds is possible with the H2, budding photographers who are looking to explore their creativity will not be disappointed as well. Amateurs are not left out either, as there are more than enough preset modes to go around and these can be further complemented by Sony's "Super SteadyShot" for crystal clear pictures.
While its optical zoom capability is undeniably powerful for its class, the H2 is also right at home in handling macro shots. Our tests revealed a short distance of just 1cm was all it needed for macro focusing. That being said, the US$400 Cybershot DSC-H2 is a fine camera that is ideal for most occasions, but for those who want more pixels to capture more details, there's always the higher end 7.20-megapixel Cybershot DSC-H5 that is due to retail at US$500 this coming May.