S
ony VAIO VGN-X505VP is an ultra-portable, light weight and super slim laptop which is just 21mm at its thickest and 11mm at its thinnest end, and weighs just about 822g. Sony VAIO VGN-X505VP uses ten-layer motherboard and special graphite heat diffuser which eliminates the need for cooling fans to achieve its thinness and silent. The notebook computer is powered by Intel Pentium M Processor with Intel Centrino Technology and has docking port for optional docking station. Along with the laptop, bundled accessories include external DVD+/- RW, WLAN 802.11b/g card, multi card adapter & slip cover for both the notebook and the accessories.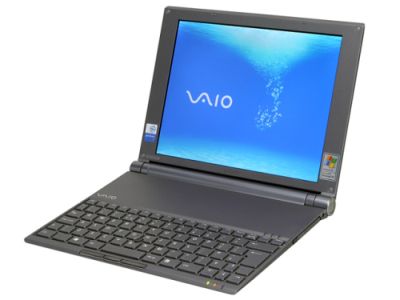 TrustedReviews reviewed Sony VAIO VGN-X505VP and gave the ultra-portable laptop the overall rating of 8 out of 10, and concluded that words like beautiful, stunning and stylish do nothing to describe the X505VP, and even the pictures accompanying this review don't do it justice. It's not the fastest machine out there and the price isn't insignificant, but what you're getting is the pinnacle of mobile computing. One day all notebooks will look like this, and for me, that day can't come soon enough.
Digital Trends (dead link) gave the Sony X505VP the score of 9 out of 10 and concluded that the Sony X505 pushes the envelope when it comes to sub-notebook design and innovation. Almost everything is unique in one way or another and Sony tops it off by adding the elegance and detail that we have only seen from companies such as Apple. The included optical mouse adds a nice touch by offering a memory stick reader, and the packaging that the X505 comes in is very stylish and retro.
Using the X505 in a public place such as a coffeehouse or on public transportation, you'll notice a lot of glances. Whether they are looking at the elegant little powerhouse in front of you or the big grin on your face while using it, you will be noticed – it's just that special. The Sony X505 is an extreme system that will appeal to those wanting the bleeding edge in design and innovation.
PC Pro (dead link) also reviewed Sony X505VP and concluded that "the X505 is an incredible engineering achievement from Sony, but the exorbitant price and poor single year of return-to-base warranty hold it back. We can't recommend it for serious, heavyweight work, but if your priorities are designer looks and minimal weight then this is the notebook to choose."