S
pyware Doctor is an anti-spyware and spyware removal utility that detects and removes spyware, adware, malware, Trojans, keyloggers, spybots, adbots, phishing attacks and trackware from your PC, which if left unattended on your PC, will causes consequences of, among other, identity theft, computer problems, slow Internet access, changed homepage and favorites, excessive numbers of pop-up adverts, unauthorized access and etc.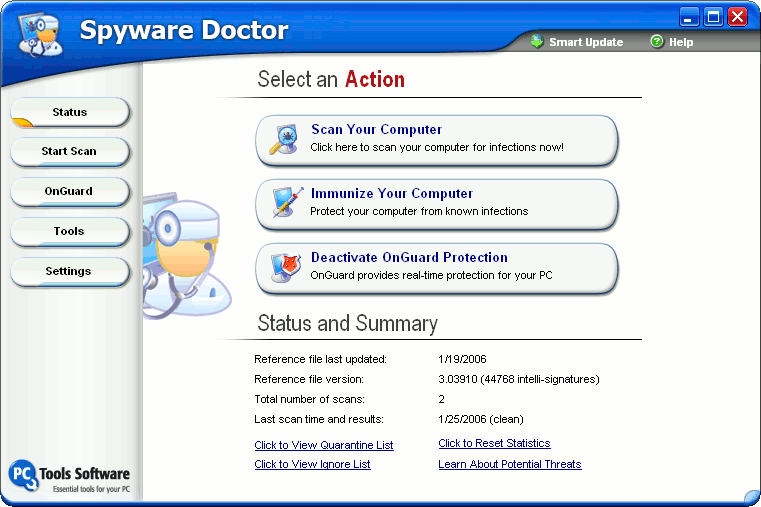 The best thing about Spyware Doctor is it doesn't tax and demand too much your PC resources yet maintains a fast scanning speed. This is due to multiple specialized scanners that scrutinize in Windows registry, file system, processes and tasks, browser, network configuration (including LSP), cookie and an intelligent script scanner. Each scanner specializes in identification of specific traits of infections for more effective detection and removal.
With Spyware Doctor, you can prevent sites from hijacking your home page and protect yourself from ActiveX threats with its OnGuard feature. The OnGuard feature provides real time protection and deploys several tools that actively monitor and protect the PC from Spyware attacks. Other OnGuard protection includes built-in popup blocker, immunization, site protection and browser monitor. Finally, Spyware Doctor "restore" feature protects you from accidentally deleting a file that may seem suspicious but turns out to be something you want to keep.
Spyware Doctor provides live updates. Almost any function of Spyware Doctor can be updated through the Live Update process and it is constantly being improved and enhanced, and extended to counteract the latest and nastiest of Spyware threats.
Main Features:
Detect and remove spyware, adware, malware, Trojans, keyloggers, spybots, adbots and trackware.
OnGuard continuously monitors and protects your PC from browser infections and tracking cookies, at the background.
Immunize your system to protect against hundreds of known web-browser hijackers (BHO) and ActiveX threats.
Real-time protection including defense against known phishing attacks, popup blocking and malicious site guard.
Intelligent and deep scanning options allow you to thoroughly check your PC for Malware infections.
Receive frequent, timely and live Smart Updates to detect and guard against new threats.
Customized and deep scans allow you to thoroughly check your PC for infections.
Ability to quarantine and undo items that have been removed.
The free version of Spyware Doctor allows users to use it as long as they want (time-unlimited), but it's limited to scanning only (does not remove existing threats), although it will show where are the spyware detected, and real-time detection and removal of incoming threats is enabled.
Note: PC Tools Spyware Doctor has been retired by Symantec and replaced by Norton Internet Security since 2013.
Product Information