S
teganos Security Suite 2006 combines 10 security tools that designed to ensure the protection of privacy. The security suite include Steganos AntiSpyware to detect and delete adware and spyware, Steganos Safe to encrypt data, Steganos Portable Safe to allow encrypted data to store on portable media and usable elsewhere, Steganos Private Favorites to password protect the favorites or bookmarks, Steganos Password Manager to encrypt and store passwords, Steganos E-Mail Encryption to create secure self-decrypted emails, Steganos AntiTheft to help recover the data in case of computer theft, Steganos Internet Trace Destructor to delete and remove trace of surfing and Internet activities and Steganos Shredder to permanently delete the files or data.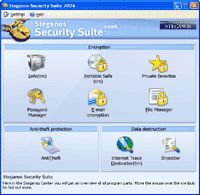 Techgage (link dead) reviews Steganos Security Suite 2006 and concludes that "this version of the Security Suite is obviously packed, but is it worth your $69.95US? That's a tough question because there's some tools that I just didn't find that useful. The Anti-Spyware is a big part of this package, but as I have tested, it didn't do an incredible job like I had hoped it would. Of course, I had so much spyware on my system, that it took four separate programs to remove all of it. Either way, I would have expected a commercial version of a spyware remover to remove more than this one did. As with spyware in general, you will want to use more than one program since not one is perfect. It's just not worth it to buy this package if all you are interested in is the Anti-Spyware. In fact, even with this package, I would not bother to install the Anti-Spyware since Ad-Aware and SpyBot found more spyware in general. Of course, this would vary on the exact type of spyware you have, but I still would have liked to see it remove more.
Overall, I am giving this suite a 7/10. If they cut out the Anti-Spyware and sold the suite for $50US or there about's, then it would get a 9/10. The Anti-Spyware really does take away from the overall quality of the suite only because it's not really that great. The other ding is that the Security Suite does not work in Windows x64, although a x64 version of Safe is currently in development. After checking out this article, you should be well aware of whether this suite is for you. Without a doubt though, if you are interested in Safe, then that is well worth your money and I recommend trying it out."
IT Reviews writes that "we warmed to Steganos Internet Security 2006 a lot during our tests. While we weren't convinced that any of the individual applications were market leaders, we did like the way it went about its business, and how the program treated us. It bothered to explain things, it was honest and realistic throughout and, crucially, once we'd got it all set up, we could just leave it running with little or no maintenance. This is an efficient and effective suite of security tools, presented in a very user-friendly manner. There's nothing ground-breaking in this package, but it's presented in a sensible manner and it works well."
WinPlanet (link dead) concludes that any company or individual with intellectual property to protect will do well to consider Steganos Security Suite 2006. And with the addition of 256-bit AES encryption, AntiSpyware, and AntiTheft, the 2006 version is definitely worth the upgrade to those who currently use Security Suite 7 or an older Steganos release.
MTekk (link dead) reviews Steganos Security Suite 2006 and concludes that "Steganos Security Suite 2006 is definitely an application suite that I consider to be as important as a good antivirus package – of which I strongly recommend Nod32. Steganos Security Suite 2006 is easy to use and by changing the way we work with our files and documents we can rest assured that our personal and company data will never get into the wrong hands! At the time of writing Steganos Security Suite 2006 sells for $69 USD and is worth every cent. The costs of personal or company data finding its way into the wrong hands could be incredibly high. Check out the Steganos Website for more details and for purchasing information."