Google Docs is a free Web-based word processor, spreadsheet, and presentation application service by Google, and Google Docs allows to create, upload, save and store documents online, other than the usual functions such as editing, organizing, printing, collaborating, real-time discussions, publishing, importing and exporting. Best of all, Google Docs also supports Microsoft Word, Excel and PowerPoint, and the file formats created by them, the most popular programs in the world today.
With integration of three most important productivity programs, Google Docs is a good choice for users who intend to publish or share Office documents, workbooks or presentations online in the web, so that the documents and files are accessible while on the move. Google also provides generous storage space capacity for the uploaded files, making Google Docs a perfect solution as a free backup solution for offline files. Google Docs Help Center explains that Google Docs saves to a secure, online storage facility, where users can access the documents from any computer, and, in the event of a local hard drive crash, won't lose the saved content. And Google servers backs up data almost as often as users can manage to change the contents.
However, Google Docs doesn't have the auto sync feature to automatically transfer and synchronize files and documents between local computer and Google Docs web server. Users will have to upload the files one by one using Google Docs web interface, although it's possible to download multiple files at once.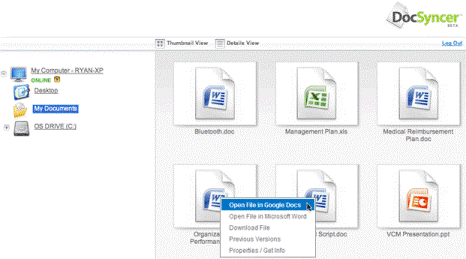 DocSyncer is the solution the awkward Google Docs upload functionality. DocSyncer, as its name implied, will constantly keep track of any changes and synchronize the documents between local PC hard drive on selected folders, and Google Docs account. If the files do not exist in the web account or local drive, DocSyncer will upload and download the files automatically, including the newly created and saved documents, spreadsheets and presentations. From DocSyncer, users can directly open a document in Microsoft Word, Excel or PowerPoint or open it in Google Docs. It's also possible to access Previous Versions of the file, although it's not clear is the feature Vista specific.
DocSyncer is not yet officially launched, and users can sign up for an invite to be notified of DocSyncer launch at the docsyncer.com (defunct).
Update: You can now use Google Drive to sync and edit Office files directly.