Have tons of contacts, friends, buddies and family members in your desktop instant messaging (IM) chat client programs, but what if now you're on the move with just a mobile phone? fring provides a simple mobile solution. fring is a mobile Internet service and community that enables users to access and interact with their social networks on-the-go, make free calls and live chat with all fring, Skype, MSN (Windows Live) Messenger, Google Talk, ICQ, SIP, Twitter, Yahoo! and AIM contacts and friends. In other word, fring is another multi-protocol instant messenger or softphone that supports voice talk or chat similar to Miranda IM and Trillian, but for Windows Mobile Pocket PC (PPC) Phone, Symbian and UIQ handsets device.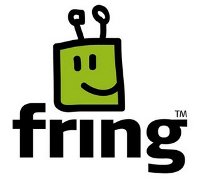 fring uses handset's Internet connection available such as GPRS, EDGE or WiFi data plan to connect to instant messaging servers, and thus bypassing the expensive and costly traditional GSM mobile call network airtime minutes. Through various IM services fring supported, users can communicate ala mobile-to-mobile, mobile-to-pc and pc-to-mobile with almost all Internet and mobile buddies.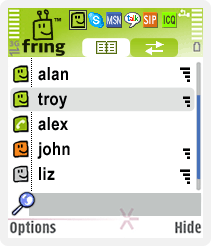 >Features of fring:
Connect to all IM buddies from Skype, MSN Messenger, ICQ, Google Talk, Twitter, AIM, Yahoo! and more into mobile phone and view them from one, integrated contact list.
Stay connected wherever you go with your buddies on your mobile for true mobility.
Place voice call to local and international calls over the Internet, which can be as cheap as free, rather than costly airtime minutes.
Live free chat instead of SMS.
Know who's online before dialing, with presence or availability status or indicators for all of your contacts.
Call landlines and regular cellular contacts using SkypeOut account or SIP providers such as SIPNET, EuteliaVoIP, VoIPVoIP and VoIPTalk, even from non-SIP enabled handsets, which is cheaper than normal GSM calls.
View call history.
Invite friends to fring.
Ability to send and receive files on Windows Mobile device such as videos, music, games, ringtones, docs with fring file transfer feature.
Choose incoming call and message tones.
Auto-roam in and out of WiFi hotspots.
Engage in multiple conversations simultaneously.
Calling is simple with just pick a contact and hit the green button.
Usage of fring application is free.
fring require a Symbian 8 or 9, Windows Mobile 5 or 6 and UIQ handsets with 3G, GPRS, Wi-Fi network coverage. Preferably users should subscribe to unlimited usage data plan which can surf the Internet. Also requires is 200-375kb of available space on memory card or phone.
fring can be downloaded directly into your PDA phone. Request for download link here (no longer available).
Update 2: fring service has been discontinued from 2017 as fring is shifting focus to work with carriers to enable them with their own branded OTT applications for their customers.
Update 1: frind is now also available for iOS and Android.