T
he just ending winter weather was one of the warmest ever recorded since human being started to measure temperature. If the summer heat is breaking record too, then it will be painfully hard to suffer. The Tinchilla may be useful in this blazingly hot weather. Tinchilla is an install can cooler that can chill a regular 350ml can or tin of soda from room temperature to frosty cold in just 60 seconds – the cooling speed of up to 240 times than a fridge.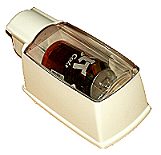 Tinchilla product page (no longer available) describes how Tinchilla works and what is the trick:
The Tinchilla is a simple device which utilizes the scientific principle of thermal conduction. By spinning the can at an optimised speed the metal of the can is rapidly chilled by exposing its surface to the ice cubes and water surrounding it. The spinning can is also given a slight wobble resulting in a whirlpool effect inside. This whirpool allows as much of the drink as possible to be exposed to the now chilled surface of the can thus rapidly transferring the heat from inside to the surrounding water and ice.

In just 60 seconds nearly all of the liquid inside the can will have come into contact with the chilled metal and is therefore substantially cooled. Best of all, in spite of all that jiggling about, you can open it straight away without any spraying or frothing!
Tinchilla requires 2 AA batteries, and its mechanism requires a lot of ice too. Normal room temperature unlikely to work. Usage is pretty simple, simply place the unopened can into the Tinchilla with a few ice cubes, switch on, leave for sixty seconds, and the ice cold can of the beverage drink will be served.