T
oshiba Qosmio G35-AV600 is powered with latest Intel Centrino Duo Mobile Technology and is the ultimate 4-in-1 portable home entertainment media center that enables users to enjoy stunning visuals, unbeatable graphics, excellent sound and integrated media experience with 17″ diagonal Widescreen XGA+ Ultimate TruBrite LCD (1440×900), Toshiba-unique QosmioEngine, NVIDIA GeForce Go 7300 high-performance graphics card, NTSC TV tuner with QosmioPlayer, double-layer DVD SuperMulti Drive, 1-bit Digital Amplifier and Harman/Kardon enhanced Bass Reflex speakers.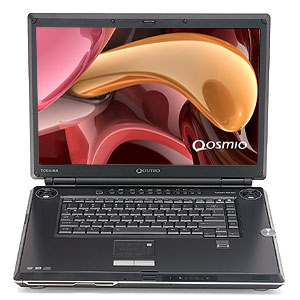 PC Magazine reviewed Toshiba Qosmio G35-AV600 which is the upgrade of Toshiba Qosmio G25-AV513, and rated the laptop computer with ratings of 4.5 out of 5, and concluded that "In a nutshell, the Toshiba Qosmio G35-AV600 has the most impressive set of A/V features to date. And it's competitively priced – $600 cheaper than the G25 ($2,999) when it was first introduced. It may not dominate the others in its class in performance, but you're not purchasing this system to kick butt in Halo. For a Media Center notebook, it's about as close to ideal as I could ask for."
Bottom Line: The Toshiba Qosmio G35-AV600 offers the most complete set of high-end ultimedia features of any Media Center laptop available.
Pros: A plethora of A/V features. Multifunctional touchpad. Fingerprint reader. Intel Core Duo Processor.
Cons: Low-end graphics chipset. Heavier than its predecessor, the Qosmio G25-AV513