T
racker Checker is a small handy utility program that automatically monitors and checks private BitTorrent (BT) torrent tracker sites if any sites has opened registration to the public, and notify users when it detects one that can sign up for account. Once you manage to get an account in these private trackers, you will be able to access to fastest seeders and hence fast download speed, beside best online contents. Tracker Checker 2 is a major new version of
Tracker Checker
.
Tracker Checker 2 main feature is ability to edit the tracker list within the program itself, instead of editing trackers.xml file in Tracker Check 1, according to Tracker Checker author (link dead). This feature allows users to easily add or remove any new or defunct or unwanted torrent tracker sites from the list easily.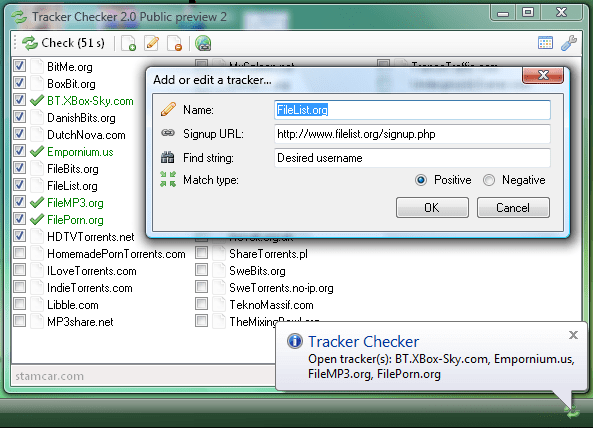 The Tracker Checker now also remember its window size, position and view setting, instead to revert back to default value. Users can also configure the checking interval for the time span Tracker Checker waits before checking the availability status of registration of tracker sites again. Increase interval will reduce the constant notifications on the desktop's system tray.
Download Tracker Checker version 2.0.3 (no longer available).
For Linux or Mac users, it's also possible to use Tracker Checker. Simply Mono from http://www.mono-project.com/Downloads, and then download Tracker Checker 2 and trackers.xml (no longer available). Then place both files in the same folder, and run the .exe executable with Mono.
BitTorrent torrent tracker websites that are supported by default in Tracker Checker 2.0.3 includes 1BT.ru, Anderssons.ath.cx, Arab-Files.org, ArabFilms.org, AradiTracker.com, AudioNews.ru, Beuqen.nl, BitMe.org, BitMeTv.org, BitSoup.org, BootyTorrents.com, BoxBit.org, BT.XBox-Sky.com, DanishBits.org, Demonoid.com, DutchNova.com, Empornium.us, EvolutionTT.org, FileBits.org, FileList.org, FileMP3.org, FilePorn.org, HDTVTorrents.net, HomemadePornTorrents.com, ILoveTorrents.com, IndieTorrents.com, Katastrofa.com, Libble.com, MixerMusic.net, MovieHouse.nl, MP3share.net, MuffTorrent.com, MySpleen.net, Nordic-T.org, Noviteti.com, OiNK, PianoSheets.org, PirateBits.org, PiSexy.org, Podzemlje.com, PolishTracker.org, PornBits.net, PornYU.com, POTUK, PureTNA.com, PussyTorrents.org, Revolt.org.uk, ShareTorrents.pl, SloBytes.net, SuperTorrents.org, SupremeTorrents.co.uk, SweTorrents.no-ip.org, TeknoMassif.com, TeraBT.net, TheMixingBowl.org, TorrentBytes.net, Torrent-Damage.net, TorrentIt.com, TorrentLeech.org, Torrent-Plaza.no-ip.org, Tracker.Traasje.nl, TranceTraffic.com, UKnova.com, Underground-Gamer.com, UrbanChaosVideos.org, Wild-Bytes.org, ZombTracker.the-zomb.com.