TrackMania is a series of arcade racing games developed by Nadeo, a French company, for Windows platform. TrackMania game includes stunting with cars, track-building, elements from puzzle games, as well as elements testing the players' dexterity. One game in the series is TrackMania Nations Forever (TMNF), which is available for free download and playing.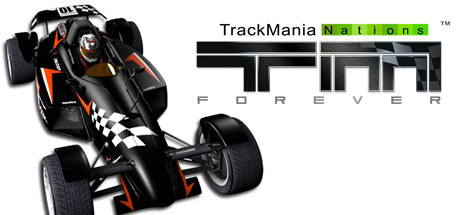 TrackMania Nations Forever is free, stand-alone game that lets players drive at mind-blowing speeds on fun and spectacular tracks in solo and online multiplayer modes. Original TrackMania Nations features one environment, Stadium, with 100 single player tracks. TrackMania Nations Forever offers a new complete "Forever" version of the Stadium environment, a complete solo mode and 65 brand new, progressively challenging and difficult tracks.
One main attraction of TrackMania Nations Forever is the leader board, where gamers compete for the best times and points. And as it's a freeware, and everybody can play for free, so players can improve their skills to earn more points and scores in shortest time.
TrackMania Nations Forever can be downloaded from here or directly download the setup installer: tmnationsforever_setup.exe. Do note that it's a 500 MB big file download. If you have Steam installed, TrackMania Nations Forever is also available for free playing on Steam platform. The TMNF can be installed in Steam from here.