Tubi TV is a free online video streaming service that was launched in 2014. Tubi TV provides free on-demand stream for thousands of full-length movies, TV shows, including kids shows, cartoons and animations from Paramount Pictures, Metro-Goldwyn-Mayer and Lionsgate, supported by video advertisements which appear at the beginning, middle or end of almost every videos. No subscription fee and no credit card required to start watching Tubi TV.
All videos on Tubi TV is categorized into easy to find genres, including Action, Comedy, Horror, Drama, Family, Sci-Fi, Fantasy, Thriller, Romance, Documentary, Anime, Kids, Martial Arts, Reality TV and etc. To aid in finding movies and TV shows that interest you, you can also search or browse via categories such as Featured, Most Popular, Foreign Favorites such as Korean Movies, Korean Dramas, Chinese Movies, Chinese Dramas, Spanish Videos, Cult Favorites, Indie Films, Special Interest, Music and Musicals and even exercise videos.
As Tubi TV is ad-supported free movie and TV show streaming service, don't expect many popular hit titles to be available though. Just take a look at the most popular title list – Hell and Back Again (2011), Little Shop of Horrors (1960), Death Race 2000 (1975), Bullet Boy (2005), In the Shadow of the Moon (2007), Bad Taste (1987), Suspiria (1977), and Dial M For Murder (1954) – most is old films and probably unheard of and unfamiliar with by many.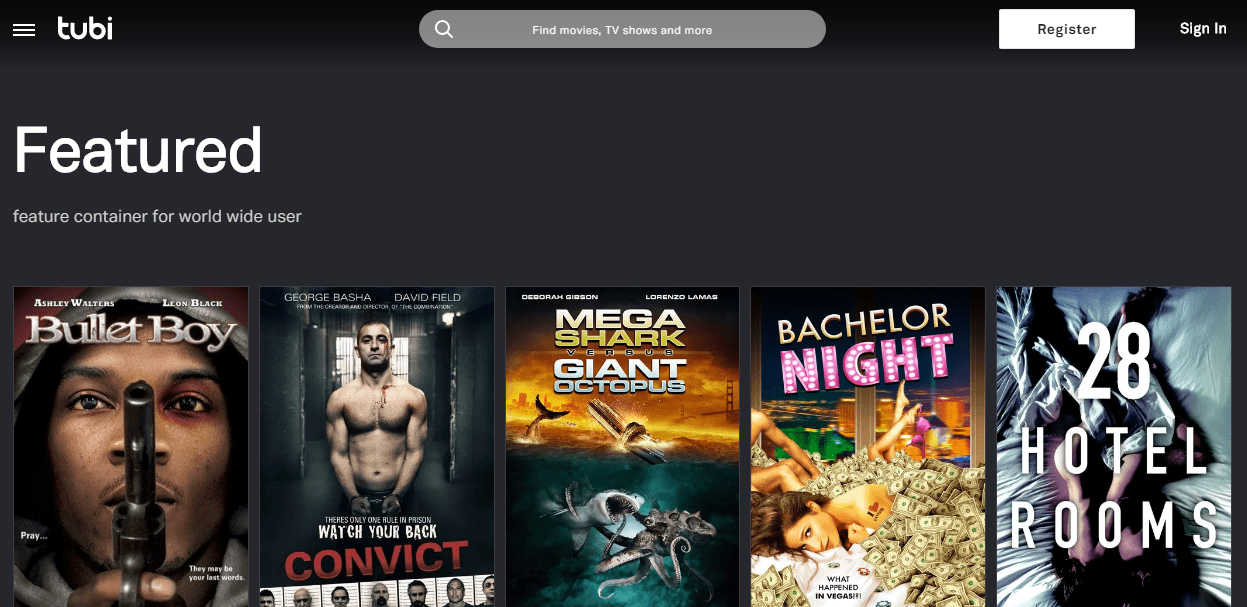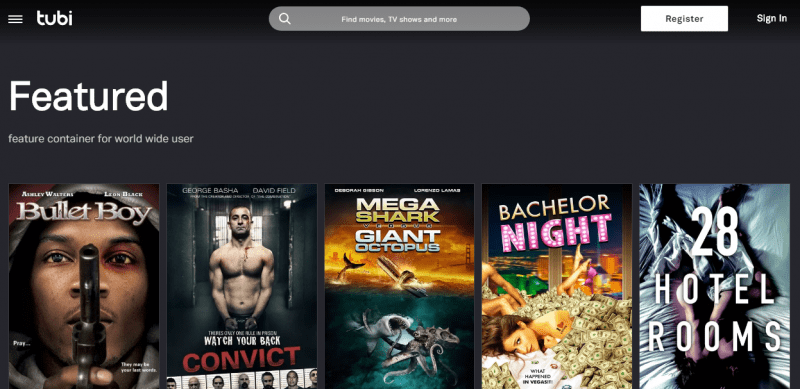 In fact, Tubi TV positions itself as a free service that complements subscription VOD services like Netflix, Hulu Plus and Amazon Prime Instant Video. And it comes with a bigger selection than other ad-supported services like Sony Pictures Television's Crackle.
The other major advantage of Tubi TV is that it's available almost anywhere in the world, legally. It appears to have no geoblocking, i.e. geographical restriction, the dread the content is not available in your region or country. Most legal online movie or TV show streaming services mainly cater to United States of America, United Kingdom or European market, so the freely available streams worldwide is welcome especially when one travels or for people who stays in places with lesser legal streaming options, and in view of its growing international collections.
Even though Tubi TV is free, the quality of streaming is mostly in HD (High Definition) quality, at 720p, which is good for viewing even for largee TV screen size. Viewers can switch between various streaming video qualities and can be watch in full screen mode.
Tubi TV is available on web browser through its website at tubitv.com. Dedicated Tubi TV app is also available on Android and iOS mobile devices, and on OTT devices such as Roku, Apple TV, Chromecast, Xbox 360, Xbox One, Sony PlayStation 4, PlayStation 3, Samsung TV, Samsung Blu-ray player and Amazon Fire TV. No registration is required for most videos, but some mature content requires you have a free account and login to verify your age. By registering, you can also enjoy the benefits of keeping track of what you've watched, resuming from where you left off, and adding videos to queue.