W
hen emptying the Trash folder, or when deleting items from Outlook permanently, a dialog box is popping up to warn users about it before Outlook actually removing the items forever.
This will be permanently deleted. Continue?
Everything in the "Deleted Items" / "Trash" / "Junk E-Mail" / "Junk" folder will be permanently deleted. Continue?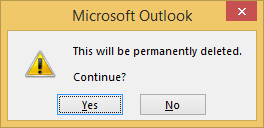 This is the safeguard built-in in Outlook to prevent accidentally permanent deletion and removal of important data such as email messages, contacts, appointments, events, notes and etc.
It's possible to disable the warning message so that when you empty a folder or delete an item, the action will be taken immediately without confirmation anymore. To do so:
In Outlook, select File -> Options.
Go to Advanced in the left pane.
Scroll down to the Other section.
Now, Outlook will delete items and empty a folder without prompting any warning or asking for confirmation. So be careful when you perform any deletion operation.