In Microsoft Office 2007, including Word 2007, Excel 2007, PowerPoint 2007, Access 2007 and Publisher 2007, an error message Unable to connect to Microsoft Office Online is shown when users attempt to create a new documents in "File -> New" dialog menu and try to select from free custom online templates available on Microsoft Office Online.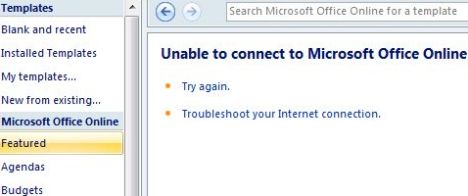 Note that in Access 2007, the error message is Microsoft Office Access was unable to retrieve template from Microsoft Office Online when clicking on "Personal" link on "From Microsoft Office Online" template category. And in Publisher 2007, The search cannot be completed. Click to try your search again message is displayed after clicking "View templates from Microsoft Office Online" on any publication type.
There is a "Try Again" retry button, however, Office program will still fail to connect to Microsoft Office Online to search and download the templates. And Microsoft Office Online doesn't work only while accessing online templates for Office documents, workbooks, presentations, and other files. All other online search and help features from the Office clients appear to be working properly.
Users can browse the Microsoft Office Online website through the Internet, and blue Help question mark shows "Connected to Office Online" with "Show content from Office Online" option selected. Beside, Trust Center settings are all set to online. And Office users can even view, insert and use online Clip Art web collections, where the clipart marked with a globe icon. And it's also fine to connect to online Research sites in Internet from any Office applications.
The problem occurs because of issue specific to Office Online and Office 2007 integration. Office 2007 suites, products and applications running with non-US English localized worldwide language combinations are currently not supported by Office Online, which is targeted to American and British English.
Thus, if the Windows system is using localized English or other regional languages as the default format, although it's a totally valid international setting, however the Office 2007 File New service doesn't currently support this combination. Some of the unsupported and incompatible regional language format to work with File New dialog to display online free templates including:
English (Malaysia)
English (Singapore)
English (Indonesia)
Spanish (Traditioanl Sort)
Spanish (Latam)
Romanian (Modava)
While waiting for Microsoft to fix the no connectivity to Office Online to search templates issue (Office 2007 Service Pack 1 (SP1) seems does not address the error yet), a simple workaround solution is to set the language format to English (United States).
To set another location for Windows 7, Windows Vista or Windows XP computer, open Control Panel, and then run "Regional and Language Options" dialog. Under the "Format" tab, select English (United States) language format from the dropdown list to set it as the current format. Then, click on OK button to save the change. Now, try to get online template from Office application when creating new document, plenty of free template will be displayed.