When trying to sign in or login to Windows Live Messenger, which previously known as MSN Messenger, the login attempt fails and users unable to sign in to Messenger service with the following error message:
We were unable to sign you in to the Windows Live Messenger 8.5 at this time. Please try again later.
To let us try and troubleshoot the problem, click the Troubleshoot button.
Error code: 80048820
Extended error code: 80048416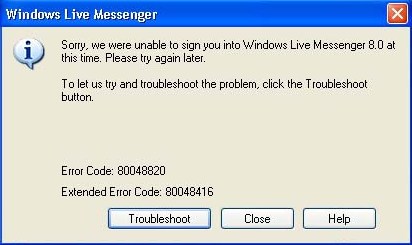 The problem occurs is caused by the incorrect Microsoft Internet Explorer SSL settings. The error happens occasionally, and not all system may affected by this WLM problem. To solve the problem, following steps in the guide below:
1. In Internet Explorer, clear the Check for Server certificate revocation (requires restart) check box. To do this, follow these steps:
Start Internet Explorer.
Click on the Tools menu, then click Internet Options in the pull down menu.
Click on the Advanced tab.
Under "Security" section tree, clear the Check for server certificate revocation (requires restart) check box.
Click OK button.
Exit Internet Explorer.
Sign in to Windows Live Messenger again.