After several months of beta testing, the newly redesigned unified Microsoft Office app from Microsoft has reached general availability and is officially released for free download by general public on iOS and Android devices through respective app-stores. The unified mobile Office app combines Word, Excel, and PowerPoint in a single app.
With the unified Office app that essentially combines all 3 main most important standalone Office applications, namely Word, Excel and PowerPoint, into one, users can quickly switch between documents, spreadsheets or presentations, all within the same app without having to close and open another app. Single login to Microsoft Account (for OneDrive or SharePoint) or third-party cloud storage provider (such as Dropbox, Box, Edmodo, Egnyte, HKT Cloud Storage, Accellion, MyWorkDrive, NetDocuments, ShareFile, Rush Files and more) allows user to access and save all type of Office documents to the cloud.
The new Office app maintains all the functionality of the existing Word, Excel, and PowerPoint mobile apps but requires far less phone storage than using three separate apps. It also incorporates some features from other standalone Microsoft apps such as Office Lens and Sticky Notes to make the mobile Office experience more seamless and enjoyable. The new Office app also comes with Actions menu that offers useful and much wanted features such as snapping a photo document to convert into editable Word file, scanning a photo of table to convert into editable Excel spreadsheet, capture whiteboards into digital images, create PDF, sign PDF, scan QR code and etc.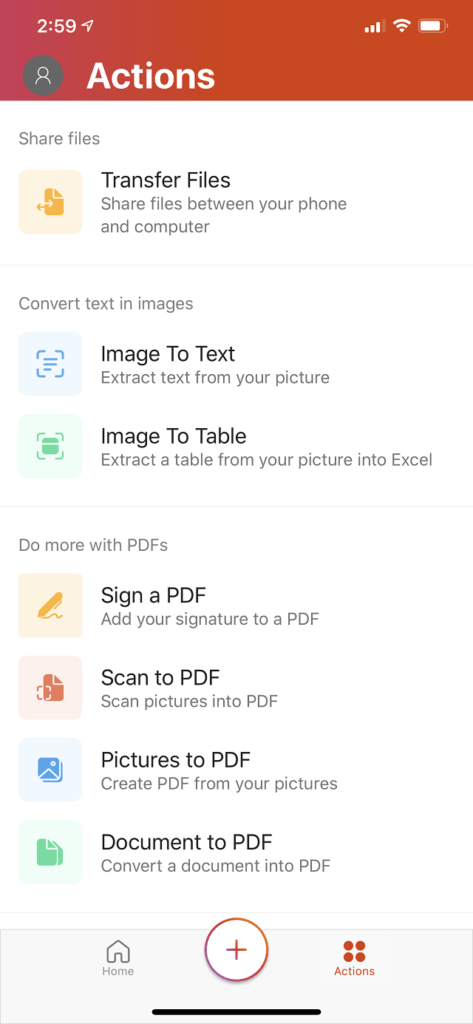 Key Features of Microsoft Office app for iOS and Android:
Word, Excel, and PowerPoint combined in one app:

The most widely used tools for working with documents, spreadsheets, and presentations, all from a single app.
Create, edit, and work together on Office documents with others in real-time.
Use templates to easily get started with your resume, budget, presentations, and other documents.
Easily store, access, and search for Word, Excel, PowerPoint files stored in your personal cloud storage, on your device, or across your organization (if using a work account).

Uniquely mobile ways that make document creation easier:

Snap a picture of a document and turn it into an editable Word file with the press of a button.
Transform a picture of a table into an Excel spreadsheet so you can work with the data.
Let PowerPoint help you design a presentation by simply selecting the pictures you want to use from your phone.
Create automatically enhanced digital images of whiteboards and documents with Office Lens features integrated into the app.

Quickly perform common mobile tasks with in-built Actions:

Instantly create PDFs from photos or Word, Excel, and PowerPoint documents.
Easily transfer files between your phone and computer or share instantly with nearby mobile devices.
Sign PDFs using your finger.
Quickly jot down ideas and notes with Sticky Notes.
Scan QR codes to open links.
Download Microsoft Office for iOS (available for iPhone and iPad from Apple Appstore or Microsoft Office for Android on Google Play Store.
Though generally available, the Office app is not done yet. The release is available on tablets with limited support, and a fully optimized tablet experience will be available on both iPadOS and Android soon. In office, more features will be added into the Office app over coming few months. For example:
Word Dictation — Let Word turn your voice into written text and use voice commands and simple toolbars to easily apply the right formatting and punctuation you need.
Excel Cards View — View and edit data in an Excel table row in a simple, digestible card format so you do not have span across columns that extend beyond the limits of the screen.
Outline to PowerPoint — Write your presentation content as a simple outline and let PowerPoint Designer turn it into presentable slides with the proper styling, formatting, and iconography of your content.
Office app is available for free download. However, logging in with a personal, work, or school Microsoft Account connected to an Office 365 subscription will unlock premium features within the app. In addition, the standalone versions of Microsoft Word, Microsoft Excel, and Microsoft Powerpoint mobile apps are still available on the app-stores, if you prefer that.