T
he codename for
Microsoft Edge web browser
is Project Spartan. Project Spartan has been the brand name of the new web browser in Windows 10 since the its inclusion in
Windows 10 Build 10049
, until around
Windows 10 Build 10147
was signed off.
Project Spartan button is pinned to Taskbar by default. If you don't unpin the Project Spartan button, and you're upgrading from Windows 10 with Project Spartan to newer build of Windows 10 with Edge branding for the new web browser, the Project Spartan icon may stuck and locked on the Taskbar.

The phantom Project Spartan button has no icon as Project Spartan no longer exist, and right click does not work as no contextual menu is displayed. Only Project Spartan tooltip is shown when mouse hovering over the blank button. As the result, the Project Spartan icon cannot be unpinned or removed from the Taskbar.
To fix the issue, press and hold Shirt key, and right click on the Project Spartan button.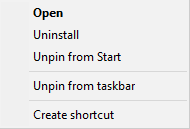 Then select Unpin from taskbar to remove the stuck icon forever.
Alternative
You can also search the following location for the Project Spartan remnant pinned button to delete it.
In the registry: HKEY_CURRENT_USER\Software\Microsoft\Windows\CurrentVersion\Explorer\Taskband
In the hidden TaskBar folder: %UserProfile%\AppData\Roaming\Microsoft\Internet Explorer\Quick Launch\User Pinned\TaskBar