U
S Robotics USB Internet Speakerphone is an internet telephony plugin for Skype Voice-over-Internet (VoIP) application. By using US Robotics Internet Speakerphone, Skype chatters can make "hands-free" and toll-free calls to any Skype user in any part of the world. Installation is simple by just plug the Internet Speakerphone into a USB 1.1 or 2.0 port, and all set up will be done automatically. US Robotics Internet Speakerphone internet telephone has echo cancellation technology to assure high quality calls, plus volume and mute buttons.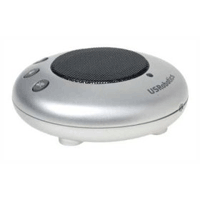 ComputerAct!ve concluded that "call quality is very good – although this also depends on how fast your broadband line is – but the volume buttons on the device didn't respond well. We resorted to changing volumes using the Windows volume control."
At £50, the US Robotics Internet Speakerphone is priced a little high, particularly compared with Skype handsets and headsets, but if you don't mind your calls being overheard, this is a great product.
Full Review