V
Downloader is an useful that allows users to download videos from Youtube, Google Video, Metacafe, MySpace, DailyMotion, Pornotube, and many other similar video hosting sites, then convert and save the videos in AVI (320×240 or 640×480), MPG, iPod or PSP (PlayStation Portable) compatible, 3GP, MP3, VCD, SVCD and DVD (both PAL or NTSC) format on local computer. VDownloader supports video downloading from Youtube, Google Video, DailyMotion, Stage6 DivX, Porkolt, Metacafe, Break.com, 123 Video, Bolt, VSocial, Lulu TV, Guba, and several adult sexual video sites such as PornoTube, Yuvutu, YouPorn, Shufuni and XVideoHost.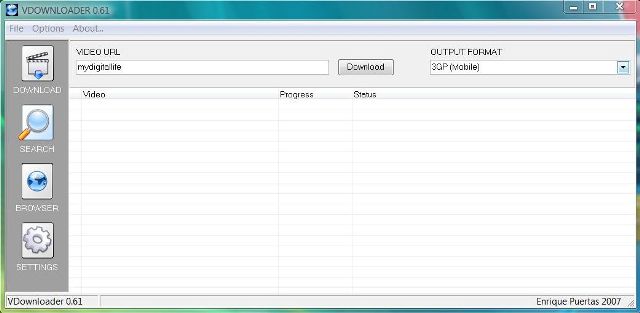 Download latest version of VDownloader archive package VDownloader from vdownloader.com.
Warning: Virus and malware has been reported been infected on the file. Download and use at your own risk.
To run VDownloader, simply install the setup fileunzip and extract all files inside the archive to a folder in local hard disk drive, and double click on vdownloader.exe executable. Make sure that both vdownloader.exe and ffmpeg.exe are located inside the same directory, else videos may not be properly converted and encoded. Then copy and paste the link location of the video wants to download into Video URL text field, and click on Download button.
Some features of VDownloader including option to search for adult videos, batch downloading, clipboard monitor, proxy support, parental lock and live cams.
Update: Read more information about VDownloader.