V
erbatim Store'n'Go U3 Smart Drive is a flash / thumb drive that is based on new mobile computing platform – U3. U3 brings the power of portable software to a USB device, turning it into a revolutionary U3 Smart Drive that enables you to carry smart software applications, PC settings, files and personal preferences wherever you go.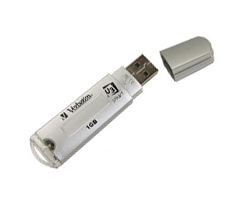 Mobility Site reviewed Verbatim u3 Smart Drive and concluded that "I am sold on the U3 Platform and this review is about Verbatim's 1GB U3 Smartdrive. The only problem I have with this drive is the storage size. At 1GB, I think I will be filling it up fast. I will admit that 1GB is much better than my 256MB Swiss Army Drive, but like any geek, I want more memory! This drive is very small and easy to use. The size is smaller than a pack of Big Red. The read and write speeds seemed to be superb and I loaded it up fast."
PROS
Great Concept (U3)
Fast transfer speeds
Built in Anti-Virus Software
Cost
CONS
Blue LED can become annoying in low light situations.
Full Review (dead link)