V
irgin Lobster 700 TV a tellyphone mobile phone with integrated DAB-IP receiver (Digital Audio Broadcasting Internet Protocol) that able to receive broadcast TV stream signals and so allows phone users to watch live television from all the top broadcasters as well as listen to digital radio. Virgin Lobster 700 TV is based on HTC Monet (previously known as HTC Trilogy), and as the TV is public broadcast so data costs involved. In UK, Lobster 700 TV able to receive digital radio stations as well as BBC1, ITV1, E4 and a special channel called Channel 4 Shortcuts. Virgin Lobster 700 TV is a Windows Mobile 5 PDA device, and features 3G support, 1.3MP digital camera and 2.2-inch LCD screen.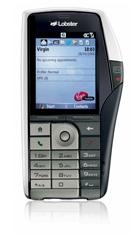 Stuff Magazine (link dead) has a hands-on review on Virgin Lobster 700 TV and finds that "the 2.2in screen really doesn't use its full capacity for TV viewing either, keeping margins at both the top and bottom for menu options and signal information, 7-day EPG seemed intuitive, though, and allowed us to set reminders for shows in the same way we do on our Sky boxes. The Lobster also lacks A2DP Bluetooth, and the headphones also form part of the aerial, so there's no way of upgrading to better cans – yet. On the plus side, contract users will get the TV content free, while pay-as-you-go users get 3 months free, with a 5 pounds per month charge after that. So, not quite the delicious a la carte lobster dish we were hoping for then – more of a warm seafood stick."
Pocket-Lint reviews Virgin Lobster 700 TV mobile phone and concludes with rating of 6 out of 10 that "the biggest problem we found, wasn't the battery life – that was actually very good, it was locking on to a signal to get TV. If you can do this, then its great and you'll only find yourself grumbling about how bloody big the phone is. However, in our tests around London, Ascot and everywhere in between, we found that getting a decent reception was very hit and miss (however in these areas we could access TV over mobile with no problem). One to look out for, but if you must be at the cutting edge of the mobile phone world, make sure you can test it in your area first."
TrustedReviews reviews Virgin Mobile Lobster 700TV mobile phone and concludes with rating of 7 out of 10 that it has all the capabilities of a Windows Mobile Smartphone, with TV and DAB radio thrown in. But the number of TV stations it handles is small – which is why I've given it such a low value rating – and I can't really see myself wanting to squint at its screen for long. Surely nobody is that addicted to TV that they can't video something to watch later on a bigger screen?
ComputerAct!ve (link dead) reviews Virgin Mobile Lobster 700TV phone and concludes with rating of 4 out of 5 that it's good for great DAB radio reception, strong video quality for watching live TV, easy to use, although it has limited choice of TV channels and average camera. Overall, the Virgin Lobster 700TV is a fun mobile phone with effective TV and DAB radio functions.
Filesaveas reviews Virgin Mobile Lobster 700 and concludes that "we really like this phone – it's well-built, hi-spec, and the radio and TV is a crowd pleaser. The phone has a distinctive look about it – the bulge on the right is a little bit of a culture shock, but it's a comfy fit in the hand, and the phone is by no means a brick. Fast, good functionality, and reasonably priced. Hard to find a reason not to recommend it."
MoDaCo (link dead) concludes that "the Virgin Mobile Lobster 700 is an extremely well priced, not unattractive Smartphone that is a welcome introduction of Windows Mobile to the Virgin Mobile network. The device itself has a generous memory quota, a good, bang up to date software build, and plenty of room for expansion. The screen is bright and crisp, and the device feels good in the hand. I have reservations about the keypad, although I will keep persevering with it and post back how I get on, and the camera is also poor. TV & Radio reception for me at least have been disappointing, but of course there is no guarantee that everyone will have the same problems with their usage pattern."