V
ista Logon Screens Pack is a collection of log on screen graphics for Windows Vista together with Stardock LogonStudio Vista program which allows users to replace the Windows Vista logon screen (where you're prompted for password, probably you won't need it if you
automatically log into Windows desktop
) with one of their own creation or use one made by others. If you have already felt boring with default Vista login screen, this logon screens pack provides some ready-made alternative free logon screen which can be used and applied instantly. If you don't like, it's also possible to create a new logon with LogonStudio Vista.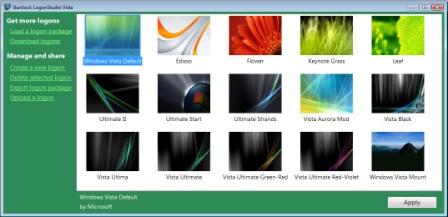 Download Vista Logon Screens Pack (Vista_Logon_Screens_Pack_by_ArchangelX2.rar)
To change or apply any of the new Vista logon screen design, simply extract the archive to a folder, and run the "LogonStudio Vista.exe" inside the Logons sub-folder. Just select the new logon screen design you prefer and click on "Apply".