V
OATK Tools v2.2 is a collection of handy Windows Vista activation and license tools to helps users to activate Vista operating system or solve problems related to activation of the Windows Vista OS. You have all the rights to believe that this freeware utility supposedly provided by Microsoft itself, but it's not. Instead, it's not but wrote from underground hacker named Extra300. Thus, it incorporates some "legitimate" features to deal with "not so legitimate" tools such as ability to remove and uninstall various Windows Vista activation cracks applied by activators such as Softmode1, VistaLoader, VistaBoot, TimeStop, TimerLock and Paradox, although by itself VOATK Tools is not a crack.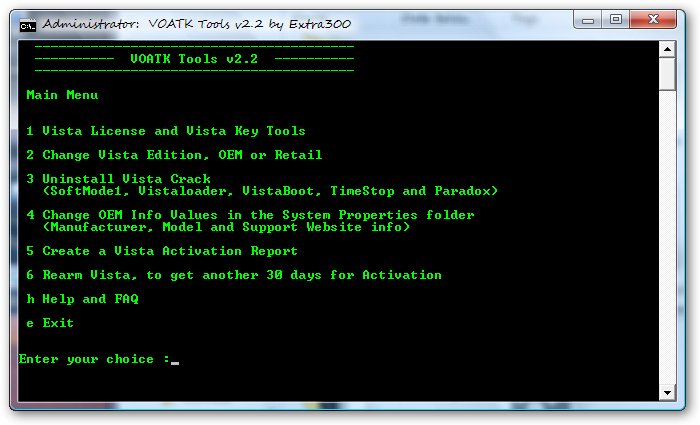 VOATK Tools 2.2 Features
Windows Vista License and Windows Vista Key Tools – used for general licensing purpose

display your Windows Vista product key
display expiration date for current license
clear product key from the registry (prevents disclosure attacks)
reinstall system license file
check a Vista product Key
uninstall Windows Vista product key

Change Windows Vista Edition, OEM or Retail – used for Vista crack recovery

Some Windows Vista cracks change the installed Vista edition in order to work, with this application you can change it back to your original Windows Vista Edition. You can also easily upgrade or downgrade your Windows Vista edition, ie. from upgrade from Windows Vista Home Premium to Ultimate, by replacing the tokens.dat with selected version and input appropriate key. But remember that you will need a functioning valid product key for validation. Feature supporting:

Uninstall Vista Crack -used to remove old or unwanted Windows Vista cracks

You probably had crack Windows Vista with really old method, or expired method, or have found out and moved on to more fail-safe method. Best of all, you may decided to buy genuine Windows Vista, but don't want to reinstall the OS again. In this case, VOATK Tools version 2.2 can deinstall damage done by following Windows Vista activators:

SoftMode1
SoftMode2 aka VistaLoader
VistaBoot
Paradox
TimeStop32 and TimeStop64, applied also by TimerLock.
Frankenbuild, see VOATK TOOLS V2.2 HELP AND FAQ (item h)

Change or Remove OEM Info Values in the System Properties folder – used for Vista touch up

The following values can be changed or added:

Manufacturer, Model, Support Website, Support Hours, Support Phone Number

Windows Vista Activation Report

The report created will give you detailed information about:

Windows Vista Activation Status
Windows Vista Product Key
Windows Vista Build Number
Windows Vista Product ID
Windows Vista License Status
Windows Vista Platform
Windows Vista Description
Installed Windows Vista Edition
Installed Windows Vista Activators

Rearm Windows Vista – used to get another 30 days time for activating Vista, useful for disaster recovery especially when you are unable to boot up / start Windows Vista or stuck in Reduced Functionality Mode (Guide: how to recover from Reduced Functionality Mode).
Ready to Use – Stand Alone

no installation required on your hard disk
runs from an USB stick
runs from the Vista Recovery Console
runs from the Reduced Functionality Mode
Download VOATK Tools 2.2 (no longer available).
Update: VOATK Tools v2.5.
VOATK Tools Installation and Usage Instructions
Turn off UAC (you will be prompted if needed).
Log in as Administrator. (Guide: how to activate Administrator account)
Turn off firewall, antivirus, antispyware or any other application who could interfere with the installation (optional).
Run VOATKToolsV2.2 as administrator (right click on the voatktoolsv.2.2_stand_alone.exe and click "Run as Administrator").
VOATK Usage Guides
How to Remove and Uninstall Vista Activation Cracks
How to Remove and Recover from Frankenbuild Sytem