Microsoft has finalized the upcoming major feature update for Windows 10, Windows 10 May 2020 Update, codenamed 20H1. The OS Build for Windows 10 May 2020 Update, aka Windows 10 Version 2004 as it was compiled in April 2020, is 19041.208.
However, even before the certainty that Windows 10 Build 19041.208 is the final RTM build of Windows 10 May 2020 Update, Microsoft has released yet another preview build for Windows Insiders in the Slow and Release Preview rings. In fact, in a sign that Windows 10 May 2020 Update is ready for prime time, the update was delivered to all Windows 10 PCs running the May 2020 Update through Windows Update i.e. running Windows 10 Version 2004, even though they are not enrolled in Windows Insider program.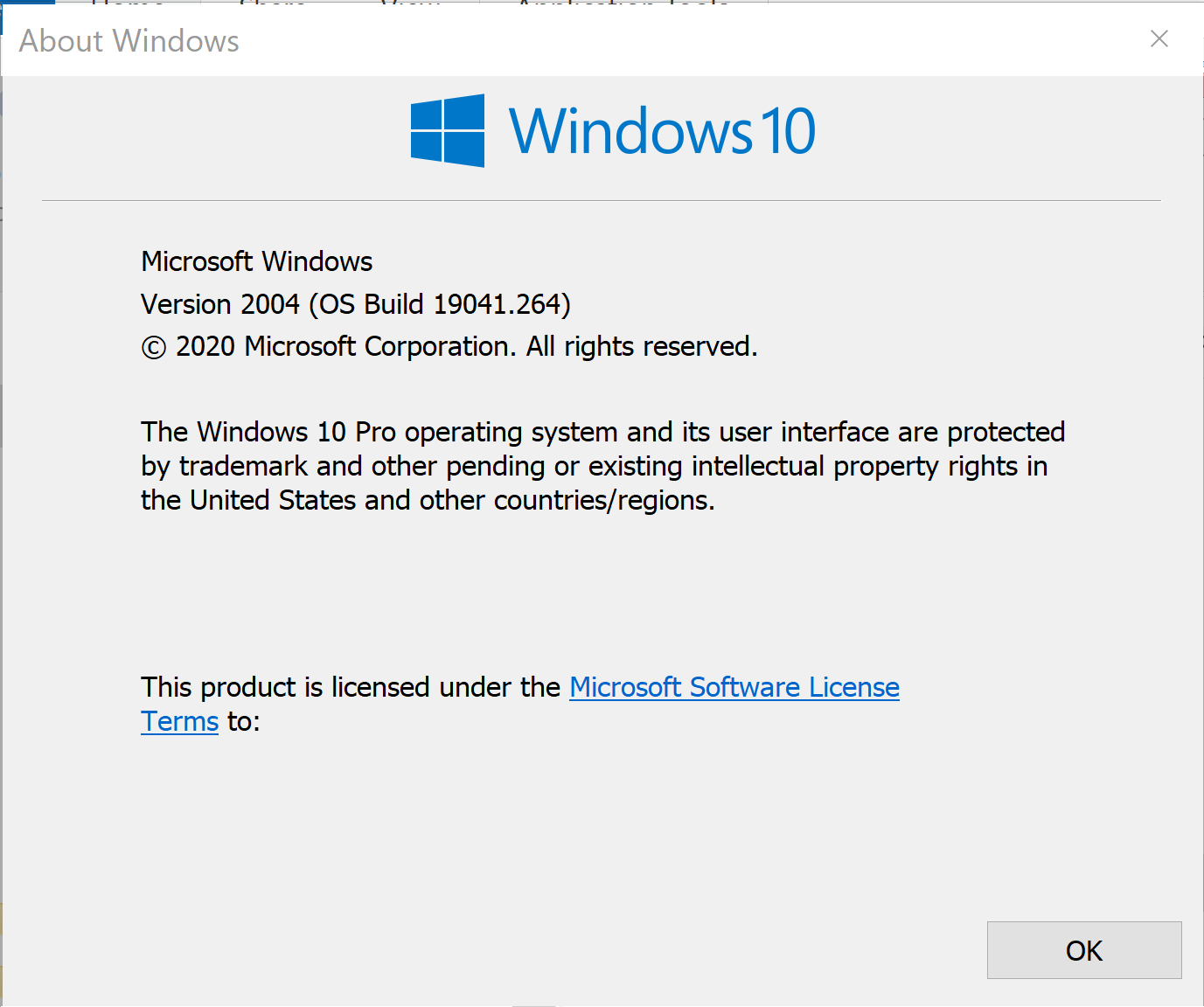 The new build, Windows 10 20H1 Build 19041.264, comes in the form of KB4556803 cumulative update. The update includes important quality improvements and bug fixes, including:
Fixed a performance issue in Windows Mixed Reality (WMR) that prevents it from working correctly for many users.
Fixed an issue that prevents cleaning tools, such as Disk Cleanup, from removing previously installed updates.
Updated the 2020 start date for daylight saving time (DST) in the Kingdom of Morocco.
Security updates to Internet Explorer, the Microsoft Scripting Engine, Windows App Platform and Frameworks, Microsoft Graphics Component, Windows Input and Composition, Windows Media, Windows Shell, Microsoft Xbox, Microsoft Edge, Windows Fundamentals, Windows Cryptography, Windows Authentication, Windows Kernel, Windows Virtualization, Windows Update Stack, Windows Core Networking, Internet Information Services, Windows Network Security and Containers, Windows Active Directory, Windows Server, and the Microsoft JET Database Engine.
If you're on Windows 10 Build 19041.208, or have installed earlier updates, only the new fixes contained in this package will be downloaded and installed on your device.
Not receiving the updates from Windows Update? You can download the .cab files from the direct download links below. Note that you need to install Windows 10 Servicing Stack Update (SSU KB4557968) which brings OS Version to 19041.262 first, before proceeding to install Windows 10 Cumulative Update (CU KB4556803) that promotes Windows 10 to 19041.264.
Windows 10 SSU 19041.262 (KB4557968)
x64: windows10.0-kb4557968-x64_FEF171FDEEBF4D23F9576E3A84C5BF457E20FE29.cab
x86: windows10.0-kb4557968-x86_F8B8782B1785A825A965A4F67A1EE4859AA866CF.cab
arm64: windows10.0-kb4557968-arm64_5C75154FBC4E752F91A06E8D9A3843D97ECABC2E.cab
Windows 10 CU 19041.264 (KB4556803)
x64: windows10.0-kb4556803-x64_811511936B9B2F6E6E5AFCF9F63ACAC75A72B405.cab
x86: windows10.0-kb4556803-x86_D938BF3D6DA7466425068AB2C45BEB9B6D0BF84D.cab
arm64: windows10.0-kb4556803-arm64_E2BA61B28D63DFB1F43B9361BA07C4894355E262.cab
To manually install the .cab file into Windows 10, use the following command in elevated Command Prompt:
dism /online /Add-Package /PackagePath:<package name>.cab
After installing the KB4556803 cumulative update, your Windows 10 should indicates its OS build as 19041.264.