M
icrosoft has 'accidentally' announced the general availability (GA) release date of the Windows 10 Anniversary Update, originally codenamed Redstone, to be at August 2nd, 2016, if the news release that was published on Microsoft's News Center and then removed moments later, was not a spoof.
Windows 10 Anniversary Update is the first major update for Windows 10, which is equivalent to service pack of earlier Windows operating systems. The update has been highly anticipated since it was announced in March 2016 during the Build conference. The Windows 10 Anniversary Update will bring many feature enhancements, stability improvements, user interface tweaks, bug fixes, and some new features especially on Windows Ink, Windows Hello, Cortana, addition of Ubuntu Bash and extensions support in Edge.
Microsoft's announcement at http://news.microsoft.com/2016/06/28/microsoft-announces-windows-10-anniversary-update-available-aug-2/ (has since been removed but cached version is available at archive.org) included only a headline, which titled "Microsoft announces Windows 10 Anniversary Update available Aug. 2" with posted date as June 28, 2016. It seems likely that someone accidentally hit the publish button instead of saving draft button, causing the news to be published earlier than intended.
The release date of Windows 10 Anniversary Update on August 2nd, 2016 is now official. Microsoft has published a
blog post
which confirmed the date.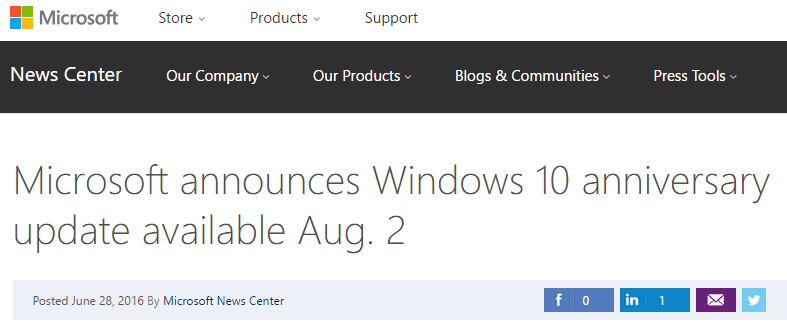 However, given that Windows 10 Anniversary Update is expected to be released by the end of the summer, coupled with the name of 'anniversary' indicating the update should arrive on the anniversary of Windows 10's release (Windows 10 was released on July 29th, 2015), August 2, 2016 does seem like a possible office release date for Windows 10 Anniversary Update when Microsoft makes the proper announcement, presumably soon.
Windows 10 Anniversary Update is free for all Windows 10 users. For people with Windows 7 and 8 users, updating to Windows 10 is currently free. However, that will change by the time the Anniversary Update arrives, as Microsoft is expected to charge $119 for Windows 10 license. Thus, install and upgrade to Windows 10 now if you want to have Windows 10 Anniversary Update.