Another preview build of upcoming Windows 10 April 2019 Update Version 1903, codenamed Windows 19H1, has been released to Windows Insiders in the Fast ring. The new build is Windows 10 Insider Preview build 18356.
As with all recent Windows 10 Insider Preview builds released, Windows 10 Build 18356 contains no new features, except several bug fixes. Though no new features are added to the operating system, Microsoft does roll out an updated version of "Your Phone" app, which features "phone screen" that allows you to mirror and control your Android phone's screen directly on your PC without having to even touch your phone.
To use the Android phone mirroring to Windows 10 PC feature, the following requirements must be met:
Select Android phones* running Android 7.0 or greater (*Samsung Galaxy S8/S8+/S9/S9+).
Windows 10 PC with a Bluetooth radio that supports low energy peripheral role. How to check if your PC supports this.
Latest 19H1 preview build (18335+ recommended).
Android phone must be on, within Bluetooth range of the PC, and connected to the same network as the PC.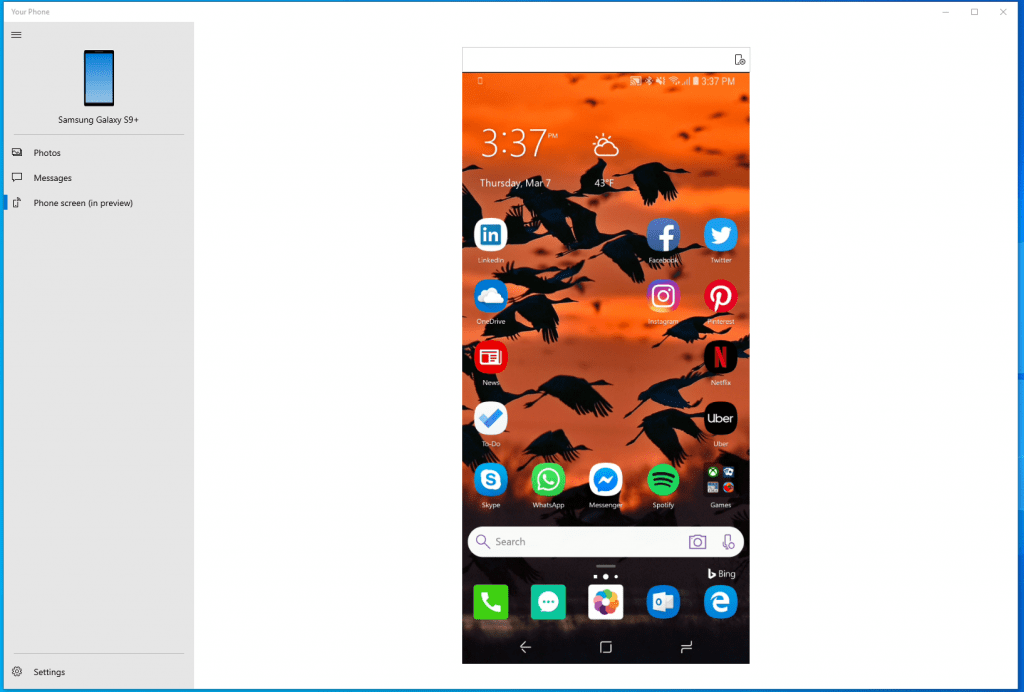 Microsoft explains what's requirement for phone screen of Your Phone to work, and also the changelog for Windows 10 Build 18356.
General changes, improvements, and fixes for PC

Fixed a Microsoft Edge crash encountered when interacting with combo boxes in PDF forms.
Fixed an issue that could result in night light being on after an upgrade, even though all the settings showed that night light should be off.
Fixed an issue where using the slider to adjust the night light strength could result in night light getting stuck on.
Fixed an issue where night light was skipping the fade transition when it was turned off (manually or scheduled).
Fixed an issue resulting in increased battery drain while the screen was on in recent builds.
Fixed an issue resulting in the "…" menu contents being clipped for certain apps like Voice Recorder and Alarms and Clock when the app was full screen.
Fixed an issue resulting in some Insiders experiencing bugcheck green screens citing a KERNEL_SECURITY_VIOLATION error.

Known issues

Launching games that use anti-cheat software may trigger a bugcheck (GSOD).
Creative X-Fi sound cards are not functioning properly.
Some Realtek SD card readers are not functioning properly.
An issue preventing VMware from being able to install or update Windows Insider Preview builds.

Known issues for Developers

If you install any of the recent builds from the Fast ring and switch to the Slow ring, optional content such as enabling developer mode will fail. You will have to remain in the Fast ring to add/install/enable optional content. This is because optional content will only install on builds approved for specific rings.
No ISO images are released for Windows 10 build 18356 yet. To download and install Windows 10 Build 18356, join Windows Insider program and set to receive update in the Fast ring. Then, check for updates in Settings -> Update & Security -> Windows Update. Most of time, the update will install itself automatically.
Update 4: Microsoft released KB4496796 that fixes the issues that prevents Windows 10 build 18356.16 to upgrade to Windows 10 Build 18362. The update brings the build to 18356.21.
Update 3: A small cumulative update brings build 18356 to 18356.16 in Slow ring.
Update 2: Windows 10 Build 18358 was released.
Update 1: Windows 10 build 18356.1 was released to Slow ring.