T
he first Windows Insider post-RTM and post-general availability milestone preview build of Windows 10 has been released by Microsoft to Windows Insiders who opt to continue to get Insider builds. The new Windows 10 Insider Preview is build 10525 of th2_release branch. TH2 branch is widely believed to be the branch where next major update to Windows 10, codenamed Redstone, will be released from. Redstone is expected to arrive later this year or in 2016, and may be called Windows 10.1, Windows 10 Update 1, Windows 10 Fall Update, Windows 10 SP1 or any other name. For the record,
Windows 10 final RTM Build 10240 is from TH1 branch
.
And the Windows Insider program is set to continue for a foreseeable future. In fact, Gabriel Aul, Vice President of WDG Engineering Systems team in Microsoft, promised the following when announced the availability of Windows 10 Build 10525:
With the general availability of Windows 10, the Windows Insider Program will focus on building and delivering Windows as a service by updating Windows 10 with new features and functionality on an ongoing basis. As always, Windows Insiders will be the first to see these new features and changes.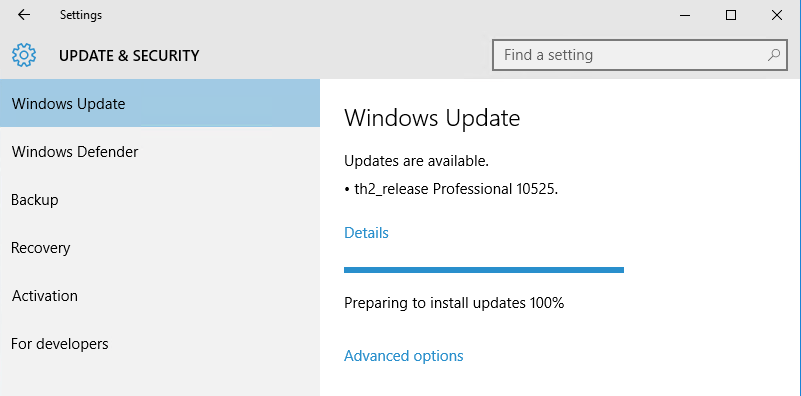 In an attempt to prevent the Windows Insider program from giving free Windows activation license to everyone, Microsoft does not provide a generic product key nor ISO downloads for now. Hence, there is some important criteria that must be met and points to note in order to remain activated after enrolling in Windows Insider program to upgrade to Windows 10 Build 10525:
Windows Insiders currently running Windows 10 Insider Preview builds or Windows 10 RTM without opt out of Insider builds will automatically be upgraded or manually upgrade via Windows Update.
Must be running genuine and activated Windows 10 (those on Windows 7 or Windows 8.1 can upgrade to Windows 10 for free).
Opt in to the Windows Insider Program via Settings app -> Update & Security -> Advanced options -> Get Insider builds.
Connected and sign in with the Microsoft Account (MSA) which is used to join the Windows Insider program.
You can't activate a freshly installed Windows 10 by opting into Windows Insider preview builds, unless the machine is registered (upgraded and activated) with Microsoft for device based activation (that provides a mean for clean install of Windows 10 to remain activated).
Windows 10 Build 10525 is now available for download and install for Windows Insiders on the Fast ring through Windows Update.
Do note that in Insider preview builds, there is a watermark imprinted at the bottom right corner, and the build is set to expire at a date in 2016, even though by then new build should have been released to supersede it.
Update: Windows 10 Build 10532
Features of Windows 10 Build 10525 include updated color options, which can now allow users to change the color for Start, Acton Center, Taskbar, and Title bars, available through Settings -> Personalization -> Colors (hack to enable color titlebars in Windows 10 RTM) and Memory Manager improvements, where a new concept in the Memory Manager called a compression store, which is an in-memory collection of compressed pages, is added. It means that when Memory Manager feels memory pressure, it will compress unused pages instead of writing them to disk. This reduces the amount of memory used per process, allowing Windows 10 to maintain more applications in physical memory at a time. This also helps provide better responsiveness across Windows 10. The compression store lives in the System process's working set. Since the system process holds the store in memory, its working set grows larger exactly when memory is being made available for other processes. This is visible in Task Manager and the reason the System process appears to be consuming more memory than previous releases.
Known issues in Windows 10 Build 10525 include mobile hotspot doesn't work, an update to Movies & TV application from the Store will be required to fix an issue with video playback, 64-bit Chrome not working, and optional languages packs will not be available during the initial launch of this flight, until later this week.