After waking up the computer from sleep state in Windows 10 system, the Start Menu, Cortana or Search button and Action Center or Notifications button no longer responding to mouse click or finger tap. In other words, Start Menu, Search menu or Action Center or Notifications bar does not appear nor show up when clicking on their respective buttons on the Taskbar.
The click on Start menu, Search Windows or Action Center icons may or may not be responsive, i.e. whether they acknowledge the click or tap. Otherwise, most of the other functions work fine, such as running apps pinned on Taskbar or switching apps by using keyboard shortcuts and etc. Even the Win+X menu, which requires right clicking on Start button, may still work.
Furthermore, if you manage to open the Action Center, all Quick Actions command buttons on it are grayed out, disabled and unclickable or untappable.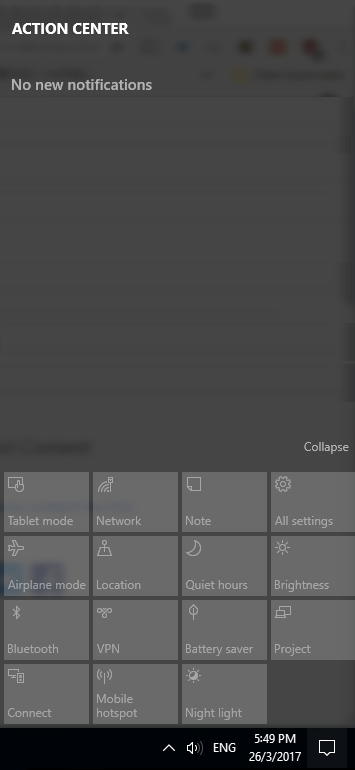 The cause of the issue is unknown, but here's a few suggestions to resolve the issue:
Try to let the PC goes to sleep and then wake up again. You can force the computer to sleep by pressing the power button, or by using Power button in the Ctrl + Alt + Del Security Options screen.
Try to restart Explorer.
Wait for a while for the Start menu, Cortana Search and Action Center to respond. Sometimes it just take a couple of minutes for the system to process for requests, or to correct any non-fatal error that it encounters. You can help this process by minimizing open windows, or better still, exiting unused apps.
Right click on the Taskbar and run the Task Manager, and then try again.
Last but not least, reboot the Windows 10 system.