M
icrosoft has announced that minimum hardware specification system requirements for Windows 10 which are necessary to boot, run, update and service Windows 10. The Windows 10 minimum hardware requirements provide a baseline user experience that is comparable with similar devices and computers. As it's basic requirements, chance is that if you're running Windows Vista or Windows 7, or even Windows XP, probably your system will support the upgrade to Windows 10. But if you want to enjoy Windows 10 with best user experience, it's understandably to have hardware that is better than minimally required.
The information on Windows 10 system requirements were revealed during the "Minimum System HW Requirements & Compatibility for Windows Platforms" event during WinHEC Shenzhen 2015, which was intended for OEMs, ODMs and IDHs who design devices of various form factors from small, lost cost devices to high end gaming PCs. The slide detailed the Windows 10 system requirements was posted online, offering insights into hardware specifications required by Windows 10.
Windows 10 has a unified core but different releases for different kind of devices, such as computer, tablet and phone. Thus, the minimum hardware requirements very much depends on where you plan to run Windows 10. Do also note that if you're only intending to upgrade your current Windows 7, Windows 8, Windows 8.1 or older systems to Windows 10, you probably can ignore requirements on optional hardware components such as sensors and etc.
Windows 10 for Mobile Minimum Hardware Requirements
The version of Windows 10 for mobile devices such as smartphones (i.e. Windows Phone and apparently Android) and tablets requires a minimum:
Screen size between 3 to 7.99 inches.
Firmware supporting UEFI 2.3.1 with Secure Boot enabled.
512 MB of memory, and more for higher resolution as shown in table below:

| | |
| --- | --- |
| Resolution | Memory |
| 2560×2048 (QSZGA) and higher | >= 4GB |
| 2048×1152 (QWXGA) to 2560×1600 (WQXGA) | >= 3GB |
| 1440×900 (WSXGA) to 1920×1200 (WUXGA) – including 1920×1080 (FHD/1080p) | >= 2GB |
| 960×540 (qHD) to 1366×768 (WXGA) – including 1280×720 (HD/720p) & 1024×600 (WSVGA) | >= 1GB |
| 800×480 (WVGA) to 854×480 (FWVGA) | >= 512MB |

More than 4GB of flash storage space (at the bare minimum of 4GB disk space, a SD card is required to support updates).
Graphics card supporting DirectX 9.
Power, Volume Up, Volume Down buttons, and Start, Back, Search buttons for phones with WVGA display.
Trusted Platform Module (TPM) enabled.
If the Windows 10 is installed on a smartphone, of course, some standard components that one would expect on the phone is required, such as cellular radio, speaker, earpieces, headphone or headset jack connector, 802.11b/g wireless, 2-finger multitouch with HID-compliant, vibration mechanism for notification, various sensors such as accelerometer, magnetometer, ALS, proximity, gyroscope and etc is required. Depending of the form factors, some of these components are optional.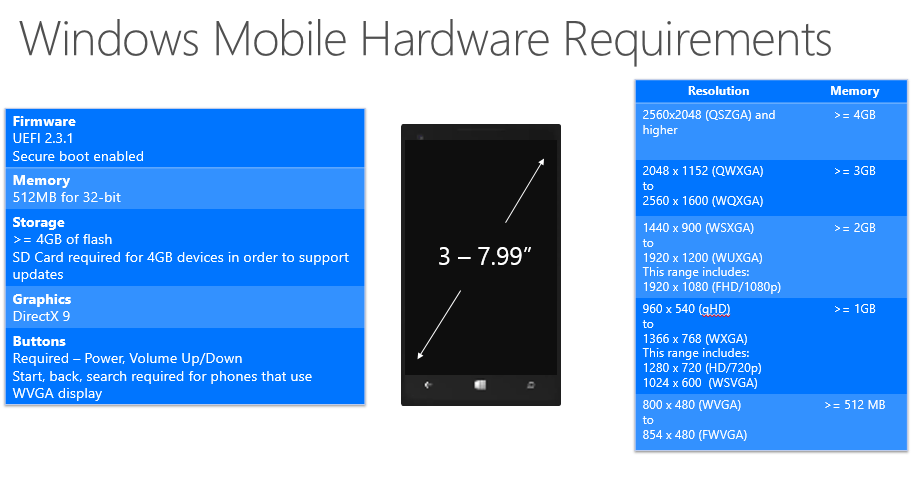 Windows 10 for Desktop Minimum Hardware Requirements
Anything with screen size equal to or more than 8 inches for consumer devices, or equal to or more than 7 inches for businesses using Windows 10 Pro have to run Windows 10 for desktop version, which includes most desktops, notebook computers, tablets and hybrid PCs. The desktop version requires:
Processor: 1 gigahertz (GHz) or faster processor or SoC
Firmware supporting UEFI 2.3.1 with Secure Boot enabled.
RAM: 2GB memory for 64-bit Windows 10 and 1GB memory for 32-bit Windows 10.
Hard disk space: 16 GB for 32-bit OS 20 GB for 64-bit OS
Display: 1024×600 at minimum screen resolution of 800 x 600 pixels.
Graphics card supporting DirectX 9 or later with WDDM 1.0 driver.
Tablet and hybrid devices must have Power, Volume Up and Volume Down buttons.
Trusted Platform Module (TPM) 2.0 enabled 1 year after RTM, optional before that.
Unlike Windows Mobile 10, Windows Desktop 10 doesn't have many requirements on other components and sensors. Those are optional and is good to have though.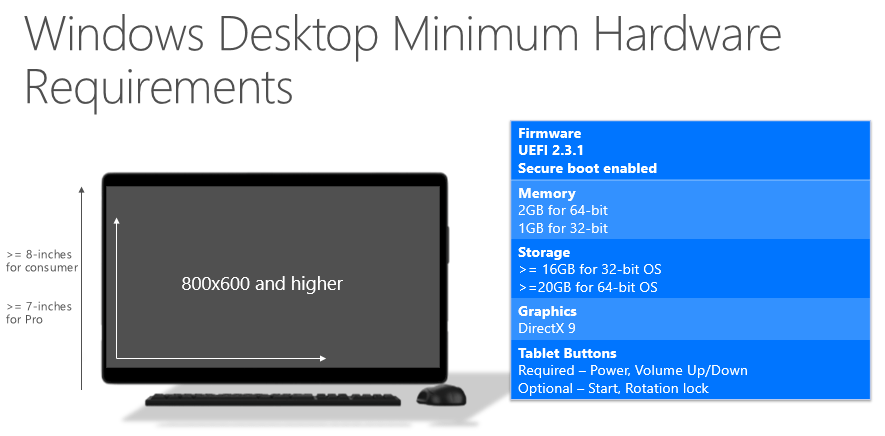 One obvious missing item in the system requirements of Windows 10 is CPU microprocessor. Welcome to the world of good enough computing, where most modern CPU will run any operating system and software application thrown at it finely. And Windows 10 does add new SoC processors support as listed below, which means even more devices can run or flash to Windows 10, even though it comes with other OS such as Android.
Qualcomm MSM8909
Qualcomm MSM8208
Qualcomm MSM8994
Qualcomm MSM8992
Qualcomm MSM8952
Intel Cherry Trail
Intel Skylake
Intel Atom x3 (LTE)
AMD Carrizo
AMD Carrizo-L
In addition, specific requirements may also applies to certain features. For more info, check out http://www.microsoft.com/en-US/windows/windows-10-specifications.
Windows 10 is expected to be launched in summer 2015.
Windows 10 - Important Information