W
hen upgrading to Windows 10, or upgrading to new build, new version, new service pack, new major update of Windows 10, the installation may fail with setup progress stops or hangs randomly at various percentage such as 2%, 6%, 25%, 32%, 40%, and etc, then reset and restore to previous version of operating system, with the following error code:
0xC1900101 – 0x30018
The installation failed in the FIRST_BOOT phase with the error during SYSPREP operation.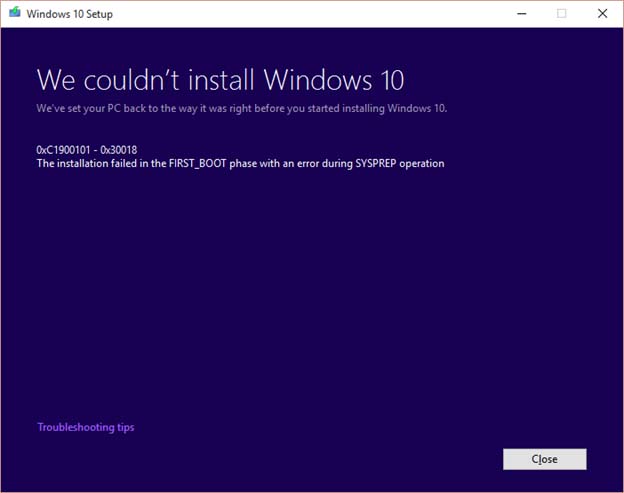 The cause for the 0xC1900101 – 0x30018 error is most likely due to conflict with some device drivers and/or software applications.
To resolve the issue so that you can update Windows 10 or upgrade to Windows 10 successfully, try the following suggestions (not necessarily have to perform all before trying to update again):
Disable all anti-virus, anti-malware, anti-keylogger and/or firewall.
Download and update device drivers to latest version manually or check for updates in Device Manager, especially for wireless network adapter and audio inputs and outputs device, and display adapters.
If you are using custom device drivers or manufacturer provided device drivers, uninstall them and revert back to Microsoft default device drivers.
Uninstall and remove VPN software.
Unplug and remove all external USB and/or FireWire accessories such as sound card, flash drive, memory card reader (SD card) and etc.

If you're using a desktop PC, try to remove all unnecessary devices too such as extra HDD, DVD/Blu-ray drive, except mouse, keyboard and basic video adapter (switch back to basic graphics card if possible).

Uninstall and remove PC optimization, tune-up and cleaning software, e.g. AVG PC TuneUp, Ashampoo WinOptimizer, Iolo System Mechanic, SlimWare Utilities SlimCleaner Plus, Anvisoft Cloud System Booster, Norton Utilities and etc.
Disable all apps that running in the background, e.g. Dropbox, Google Drive, OneDrive, Flickr, weather apps and etc.
Connect to Internet through Ethernet cable instead of WiFi (and turn off the WiFi adapter).
Configure in the BIOS for computer to boot to Legacy BIOS mode (disable Secure Boot), or vice versa to UEFI Mode.