Microsoft has made another change to Windows Insider program, mainly to rename the existing "rings" system to "channels" model, to be in line and consistent with how most other software applications including Microsoft's Edge release the pre-release software for testing.
Currently, Windows Insiders can choose from one of three rings of Windows Insider release channels, namely Fast, Slow and Release Preview (the 4th ring, Skip Ahead ring, was dropped in late 2019), which is based on frequency of builds released. Beginning from late June 2020, Windows Insider will move to channel model that emphasizes on the quality of builds and to better support parallel coding efforts. The new channels available are Dev channel (equivalent to Fast ring), Beta channel (equivalent to Slow ring) and Release Preview channel (same name as Release Preview ring).
Microsoft provides a chart about the mapping: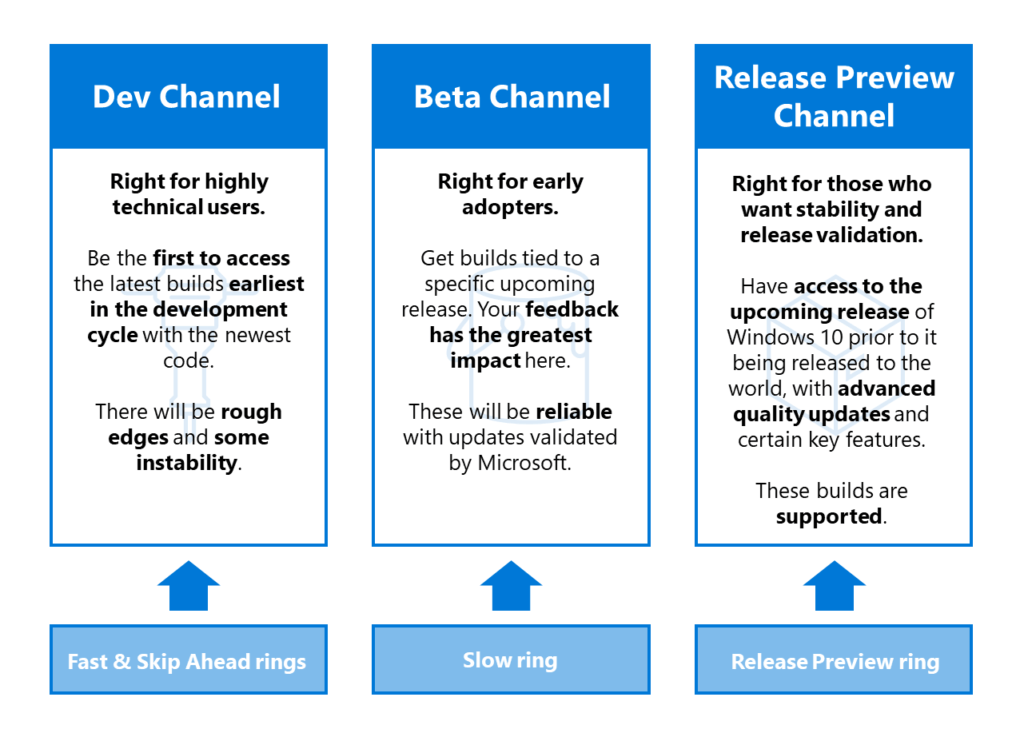 Essentially, the change from rings model to channels model is mainly a name change to make each release channels more clearly defined and easy to understand for everyone who wants to join Windows Insider program and download the beta builds. The characteristic of new Windows Insider channels are as follow:
Dev Channel

Ideal for highly technical users. Insiders in the Dev Channel will receive builds that is earliest in a development cycle and will contain the latest work-in-progress code. These builds will have rough edges and some instability that could block key activities or require workarounds. Similar to Fast ring, these builds are not matched to a specific Windows 10 release. New features and improvements in this channel will only include in future Windows 10 releases when they're ready and may be delivered as full OS build updates or servicing releases.

Beta Channel

Ideal for early adopters. Builds are tied to a specific upcoming Windows 10 release, so Insiders and IT Professionals in the Beta Channel can check out upcoming Windows 10 features, while still getting relatively reliable updates that are validated by Microsoft.

Release Preview Channel

Recommended for companies to preview an validate the upcoming Windows 10 releases before broad deployment in organization. Insiders and IT Professionals in the Release Preview Channel will have access to the upcoming release of Windows 10 prior to it being released to the world, with advanced quality updates and certain key features. These builds are supported by Microsoft.
As the new channels are almost completely similar to old rings, the transition to corresponding channel based on the mapping shown in chart above is automatic, where Fast ring will be changed to Dev Channel, Slow ring to Beta Channel and Release Preview ring to Release Preview Channel. No action is required from Insiders unless you want to change the channel. Do note that the 3 channels may fluctuate as Microsoft may introduce new channels for new experience for Insiders in the future.
The change to Windows Insider's naming makes it standard across all Microsoft's Insider programs, which have also adopted and already used the same naming convention for pre-release versions. Such programs include Windows Insider, Office Insider, Microsoft Edge Insider and Microsoft Teams Insider. Some software with rapid release, such as Edge browser, has even faster release channel at Canary Channel which is updated daily, but obviously not practical for an operating system.
The new channels of Windows Insider program will be released together with new builds that are released from mid June 2020 onward.