I
f you having problem in getting
Windows Genuine Advantage Validation Tool
to validate your copy of Windows XP, Windows 2003 Server, Office 2000 Professional or Office 2003, Windows Updates Downloader (WUD) is a small utility that can helps you to download all Windows critical updates, service packs, some applications and other downloads from Microsoft download sites without WGA validation. It's also useful if you want to automate the download and install of updates for your Exchange, Office or Windows software without going to Windows Updates or Microsoft Updates websites.
Windows Update Downloader allows you to download all of the current Windows critical updates. All updates are downloaded directly from official and legitimate microsoft.com website to your computer with a single mouse click. WUD requires Microsoft .NET 2.0 Framework. It supports updates for Exchange 2003, Office 2003, Office 2000 Professional, Windows 2003 Server and Windows XP.
Download Windows Updates Downloader 2.24 Build 875 (outdated).
Update: Windows Updates Downloader 2.25.
You need to update your Update lists from time to time so that any new releases of updates from Microsoft will be taken care of. Update lists can be downloaded from WUD official homepage.
Double click on the WUD installer setup file to start the installation. The installer supports the following switches or options:
/S – Silent install without prompting.
/nodesktop – Removes desktop shortcuts from being installed
/nostartmenu – Removes Start Menu shortcuts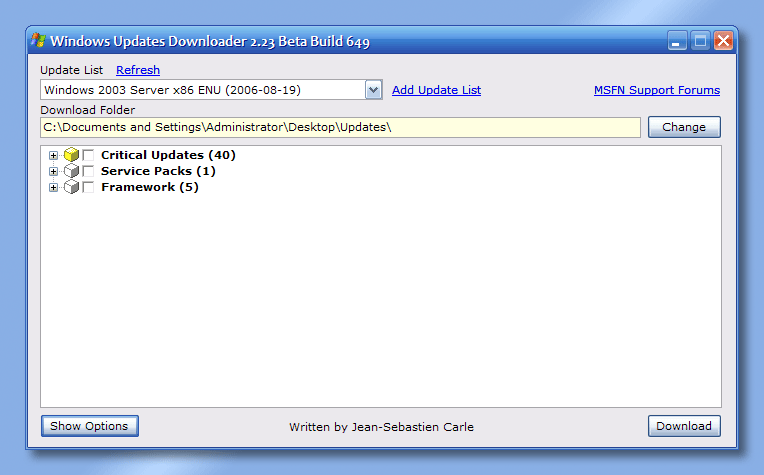 To use WUD, simply launch the program, then select the appropriate Update List that corresponding with the application you want to update. And then select the Updates that are available in the bottom pane. Optionally, select or change to another destination folder if you want. Once ready, click on Download button, and WUD will automatically download the updates to the specified folder. To apply the updates, go to the download folder, and launch all the setup files.
Video no longer available
Steps to use Windows Updates Downloader to update your Windows, Office or Exchange. Ignore the first part about download the archive file.