I
f you're looking for Windows Vista tips and tricks to customize and enhance your Windows Vista, or want to know more ways to fully utilize Windows Vista hidden features and lesser known features, or want to learn the best way to use Windows Vista, then visit
Windows Vista Tips & Tricks site by Microsoft
(no longer maintained by Microsoft). Windows Vista Tips & Tricks site provides tools for Windows Vista users to become more efficient and productive. It also offers Windows Vista webcasts, Windows Vista cheat sheets to download and training tools for corporate trainers.
Windows Vista users can now download Windows Vista Tip Sheet and Windows Vista Top 10 Tips & Tricks that contains information about search & organize in Windows Vista, Search Explorer, Windows Aero user experience, features in Internet Explorer 7, Shrink to Fit printing feature, files and folders sharing, XPS documents creation and recover previous version of a document. Training Tools section now provides Windows Vista Tips & Tricks Demo Script, Windows Vista Tips & Tricks Intro Slide Deck and some learning resources for Windows Vista where can be used to train employees in the company.
Beside Windows Vista Tips & Tricks site, Windows Vista Team Blog (deprecated) has also revamped the blog's appearance and user interface. According to the welcome message (dead link), "in May, the team really turned the corner and today we're launching the newly updated look and feel. I hope you'll agree it's a big improvement. It incorporates some key parts of the Windows Vista visuals. We've also improved the organization of the site, so things should be easier to find." As usual, you can read all kind of updates from Windows Vista Team Blog first hand from the engineers.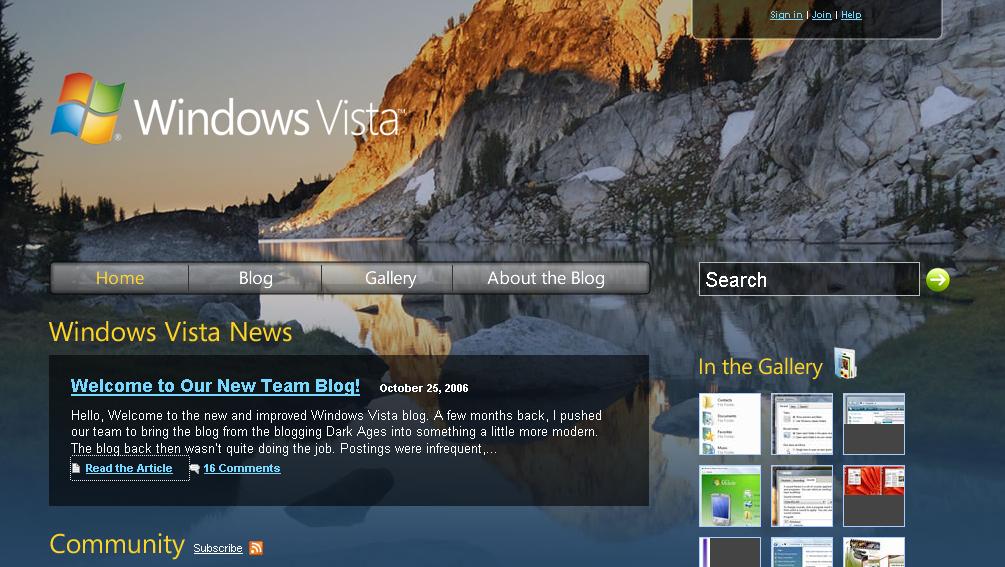 The refreshing new look of Windows Vista Team Blog