Yahoo! has refreshed Yahoo! Messenger for Windows Vista to version 2008.01.11.428, mainly to fix various bugs and improve performance and reliability. According to Yahoo! Messenger Blog (dead link), the new Y!M for Windows Vista refresh adds the following fixes and enhancements: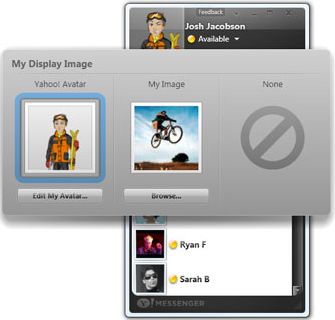 Performance and stability improvements in overall responsiveness, including typing and switching between tabs and windows, and fixes some odd crashes that were occurring to make the program more stable overall.
A fresh look & feel for some areas such as making the contact list even narrower and offline messages are more clearly displayed with a new "While you were out" tag and timestamp to denote the message.
Sidebar gadget reliability.
Various bug fixes such as message window wasn't always scrolling down as the conversation progressed.
Yahoo! Messenger for Windows Vista can be downloaded from Yahoo! site (no longer available), but it's a small initial setup loader that also include crappy features such as Yahoo! Toolbar. To directly download the standalone installer package which can also be used for offline installation, use the following link:
ymsgr_vista_setup.2008.01.11.428_us.exe (no longer available)
Update: Yahoo! Messenger for Windows Vista development has been discontinued. Get Yahoo! Messenger 9 instead.