I
f you're currently using a non-Google Account to login to Google AdSense account, or has a separate AdSense logins with another Google Account which comes with some Google services such as Gmail, you will have to update the AdSense login to a Google Account. This will definitely solve the confusion for some Gmail users who
reset Google Account password instead of AdSense password
as currently, even if you use Gmail address to login to AdSense, it's not necessary linked and associated with the Google Account.
After switching over to login with Google Account, there are plenty of benefits, most importantly is once you sign in to Google Account, you will automatically and directly come to AdSense stats page, instead of having to sign in again. Others, as Google says, "Your AdSense login signs you into AdSense. A Google Account signs you into all things Google."
If you're still login with AdSense ID, you will reach a page stating the following message:
Please take a moment to update your AdSense login.

We will soon be requiring all our publishers to update their logins to a Google Account . This change will provide you with enhanced security and will make it more convenient for you to use other Google products with just one account. Learn more

To begin the process, answer the first question below. After you complete the process, only your login changes. All your other account information will remain the same.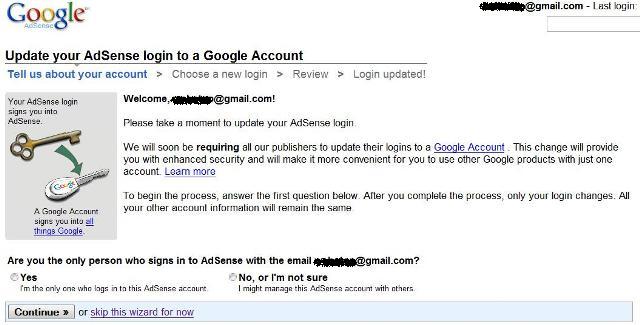 Then there will be plenty of questions to answer to determine what's the best migration option available, either by using a master Google Account which used with an existing Google products, or create a new Google Account.